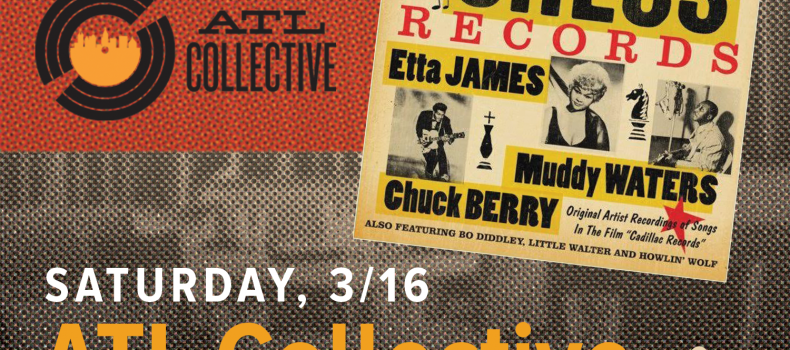 AJMF Embraces New Direction with Jewish Contributions to Music
March fest highlights Grammy winning artists and acclaimed producers
Now in its tenth season and under new leadership, the Atlanta Jewish Music Festival (AJMF) is excited to announce its new theme "Jewish Contributions to Music" as the fest decidedly takes on a new direction. This year's fest will specifically nod to Jewish contributions to American music with a specially curated lineup featuring Grammy winning artists, up and coming bands, historian presentations and a salute to both Leonard Bernstein and the Academy Awards. AJMF will take place March 7 – 17, 2019 at various venues around metro Atlanta.
"This year's festival will excite and engage the entire Atlanta community (both Jewish and at-large)," said AJMF Director Joe Alterman. "In a departure from the past, we 're choosing to feature a single theme throughout the fest – 'Jewish Contributions to Music.'  We're excited to showcase artists who best reflect the rich cultural heritage and contributions Jewish people (both by themselves and in collaboration with others) have made to the world of music, as well as the stories behind the songs," Alterman added.
AJMF10 "High Notes" include:
The perfect date night for jazz, classical and broadway lovers:
AJMF brings the Grammy winning Bill Charlap Trio to Atlanta (March 7, Atlanta History Center) for a fantastic opening night performance featuring their Grammy nominated album Somewhere: The Songs of Leonard Bernstein. This performance is perfect for jazz, classical and musical theatre aficionados alike. The Bill Charlap Trio featuring bassist Peter Washington and drummer Kenny Washington, is recognized as one of the leading groups in jazz. Time magazine wrote, "Bill Charlap approaches a song the way a lover approaches his beloved…no matter how imaginative or surprising his take on a song is, he invariably zeroes in on its essence."
Funky soul pop pushes audiences to re-define Jewish music
Brother/sister musical phenomenon Clyde and Gracie Lawrence are the leads of eight-piece soul-pop band Lawrence. The band's sophomore album Living Room, was released in September 2018 and promptly reached #2 on the iTunes R&B/Soul chart, earned a featured placement on Spotify's "New Music Friday" playlist, and led the band to its late-night television debut on NBC's Last Call with Carson Daly. This cool show is perfect for fans of funk and jam bands.
An intellectual journey entertains and educates
This year's festival aims to not only entertain, but educate audiences as well. Well known musician and historian Ben Sidran presents his comprehensive social history of Jewish contributions to American popular music in the twentieth century There Was A Fire: Jews, Music and the American Dream. Ben Sidran is widely recognized as the host of National Public Radio's landmark jazz series "Jazz Alive", which received a Peabody Award, and as the host of VH-1 television's "New Visions" series, which received the Ace Award for best music series. A pianist, producer, singer and composer, he has recorded more than thirty solo albums, including the Grammy nominated Concert for Garcia Lorca. Sidran uses his first person experience to frame the story behind the story of Jews in American popular music.
THE OFFICIAL AJMF10 LINEUP OF PUBLIC PERFORMANCES AND EVENTS:
Thursday, March 7
Opening Night featuring Bill Charlap Trio
Somewhere: The Songs of Leonard Bernstein
Atlanta History Center, 130 West Paces Ferry Rd NW, Atlanta, GA 30305
6:30 PM doors, 7:30 PM music
$40 General Admission/$65 VIP, ALL AGES, VIP AND PREMIER SEATING AVAILABLE
Saturday, March 9
Vinyl at Center Stage, 1374 West Peachtree Street Northwest, Atlanta, GA 30309
8:00 PM Door, 0:00 PM Show
$25 advance/$30 day of
Sunday, March 10
Bob Spiotto presents Salute To Hollywood: Jewish Contributions to Academy Awards® Best Original Songs
William Breman Jewish Heritage Museum, 1440 Spring St NW, Atlanta, GA 30309
$36
Thursday, March 14
Ben Sidran – There Was A Fire: Jews, Music and the American Dream
Ahavath Achim Synagogue, 600 Peachtree Battle Ave NW, Atlanta, GA 30327
7:30 PM
$20 General Admission
Friday, March 15
The Power of Music To Inspire w/Rolling Stone rock critic Alan Light
Shabbat Service
Temple Sinai, 5645 Dupree Dr NW 30327
Service 6:30 PM, Conversation 8:15 PM, FREE AND ALL AGES
Saturday, March 16
ATL Collective Performs The Music of Chess Records
Venkman's, 740 Ralph McGill Blvd NE 30312
Sets at 6PM and 9:30PM
$25-$40
As the largest Jewish music festival in the South, Atlanta Jewish Music Festival (AJMF) shares and celebrates Jewish heritage through quality music and artistic experiences. AJMF's resounding annual Spring Festival showcases artists who best reflect the rich cultural heritage and contributions Jewish people have made to the world of music.
In 2018, AJMF named Joe Alterman as the festival's new director. A native of Atlanta, Georgia, Joe Alterman studied music at New York University, where he received both his Bachelor's and Master's degrees in Jazz Piano Performance. An accomplished musician and recording artist, Alterman has released 4 critically acclaimed albums and performs in renowned venues nationwide. As the new Director of AJMF, Alterman enthusiastically brings new vision and direction to the festival.
We would like to thank our AJMF10 (2018-19) Sponsors:
The Marcus Foundation, The Molly Blank Fund, Fulton County, Mayor's Office of Cultural Affairs, The Helen Marie Stern Memorial Fund and Jewish Federation of Greater Atlanta
For more information and to view the entire lineup visit www.atlantajmf.org.