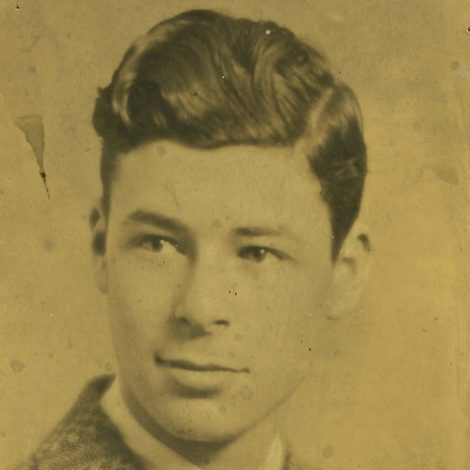 Birth Place
Philadelphia, PA, United States
Death Place
Los Angeles, CA, United States
Genres
Yiddish Lid, Classical, Musical Theater, Liturgical
Maurice Goldman (1910-1984) is an internationally known composer and conductor. Goldman's compositions and arrangements are largely in the areas of Yiddish and Hebraic music. However, like his mentors, Ernest Bloch and Aaron Copland, Goldman's music breaks the boundaries of traditional Jewish melodies, employing chordal and harmonic elements found in classical, jazz, and American folk music.
Goldman was born on April 20th in Philadelphia, Pennsylvania. Soon thereafter, his family relocated to Cleveland Ohio, where his father, Marcus Goldman worked as a rabbi.
Goldman's musical talent appeared early in life. He was already singing, playing piano and composing original music at the age of five.
Goldman attended Glenville High School in Cleveland, where he served as head of the Choral Department. At this stage, he worked largely as a singer, lending his rich baritone voice to performances of various pieces, including Handel's "Invocation To Music" and "So Fahr Ich Hin," a motet by Heinrich Schütz.
Goldman went on to study at Case Western Reserve University in Cleveland. It was at Western Reserve where he met his wife-to-be, Ethel Mann, a gifted flutist who would go on to play with the Cleveland Philharmonic Orchestra.
At age 26, Goldman became the youngest person to conduct a concert at Cleveland's famed Severance Hall. On that first night, Goldman received a standing ovation.
That same year, Goldman won a scholarship to attend a conducting workshop at The Berkshire School Of Music, located in Tanglewood Massachusetts. Goldman worked under the tutelage of Serge Koussevitzky, conductor of the Boston Symphony Orchestra. While at Tanglewood, Goldman worked alongside several of his heroes, including Ernest Bloch, Aaron Copland, and Paul Hindemith.
During his early years in Cleveland, Goldman served as the director of the Akron Opera Company and the Cleveland Jewish Singing Society. He directed the Opera Department at the Cleveland Institute of Music, served as the choral director at Euclid Avenue Temple, and the Vocal Director at the Cleveland Music School Settlement. Goldman also served as the cantor at Fairmont Temple and Temple On The Heights. Additionally, he hosted two highly popular Cleveland radio programs, Operama (WHK radio) and Classics In Wax.
Goldman divided his time between composing, arranging and conducting. While still in his 20's, he conducted a number of operas, including Die Meistersinger, Rape Of The Lucretia, and Parsifal.