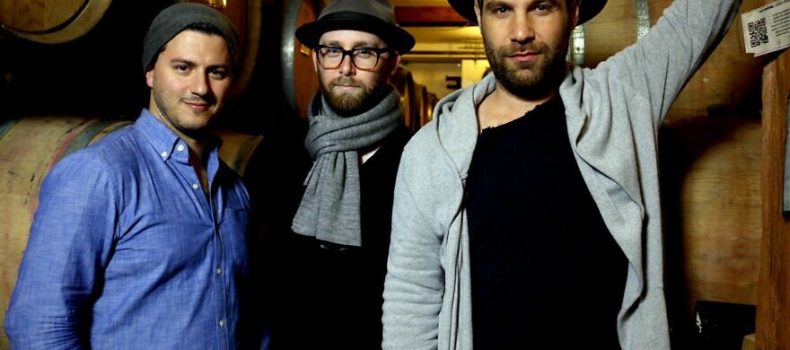 Band places impressive song in impressive Hanukkah film
The latest entry to the ever-growing musical category of "modern Hanukkah songs" has arrived.
Distant Cousins—the popular Los Angeles-based band featuring former Blue Fringe frontman Dov Rosenblatt, Moshav's Duvid Swirsky and singer-songwriter Ami Kozak—has a new song, "My Eight Favorite Nights," which appears in the Hallmark Channel film "Hanukkah on Rye," which aired Dec. 18 and can be seen on Hulu.
Brad Delson, the guitarist of the rock group Linkin Park, co-wrote the song with Landon Pigg and brought it to Distant Cousins.
"We fell in love with it right away," Swirsky told JNS. "We have shied away from making an overt holiday song in the past. We never wanted to release a holiday song unless it felt honest, but when we heard this song, it all made sense. To us, the song feels like it has a timeless quality, sort of like it's always been there just waiting to be heard."
"Obviously we were flattered [that Delson offered Distant Cousins the song], and so even though the deadline to record it was two days, we said 'Yes,'" Rosenblatt told JNS.
He added, "It's a treat to hear music that you create in a cinematic setting. It's especially sweet that it's a Hanukkah movie that we can watch with our families on the holiday."
The song appears at about 58 minutes and 38 seconds into the movie, as children are eating doughnuts tied to a rope.
This isn't the first time the group has gotten a song in a film as  "Are You Ready (On Your Own)" was in the 2014 film "This is Where I Leave You" starring Jason Bateman and the 2019 movie,"How To Train Your Dragon: The Hidden: The Hidden World."
"Hanukkah on Rye" stars Yael Grobglas as Molly Spiegelman, who is at the helm of an old-school Jewish deli on Manhattan's Lower East Side that doesn't appear to be kosher because she talks about dipping fries in ranch dressing.
At the same time, Jeremy Jordan, as Jacob, who is from Los Angeles, is moving to New York to find a place for an expansion of his family's deli, Zimmer's, which would open right next to Molly's. There's chemistry between them, and he tries to hide the fact that his new restaurant could put hers out of business.
Molly hosts events with different themes, including a Hanukkah song contest—which is won by Lisa Loeb, who became famous for her song "Stay (I Missed You)."
Although some parts are formulaic and a bit cheesy, "Hanukkah on Rye," written by Julie Sherman Wolfe, cuts the mustard and is a pleasing, well-made holiday film at a time when Hanukkah movies are few and far between.