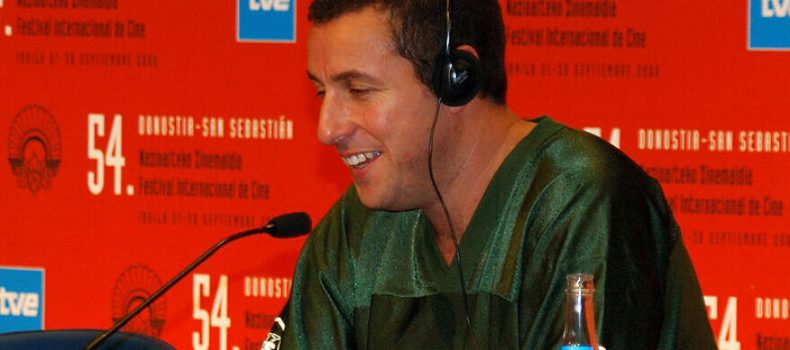 Adam Sandler talks about 'The Chanukah Song' and a new film with the Safdie brothers
Adam Sandler recounted a funny remark from a celebrity mentioned in his famous "The Chanukah Song" when he spoke to a crowd at the 92nd Street Y (now called 92NY) in Manhattan on Tuesday night.
Following a screening of his new film "Hustle," Sandler said he showed his daughters the spot on 56th and Broadway where he stood in front of a diner and had the idea for the tune.
"I remember when I met Harrison Ford, he goes: 'Half!' " Sandler recounted as the crowd erupted in laughter.
In "Hustle," which can be seen on Netflix, Sandler plays Stanley Sugarman, a scout for the Philadelphia 76ers who spots a Spanish phenom he thinks can be great in the NBA. Sandler said the character has the same name as his father, who passed away 20 years ago. Stanley Sandler, like the character, had a beard and taught his children sports. Sandler said when his father got mad, Sandler would do impressions of him.
"All my family's Jewish, everybody kind of has a funny way about them," Sandler said. "I definitely, after every family get-together, couldn't believe what I saw sometimes."
Sandler said his brother told him he should be a comedian like Eddie Murphy and even reserved a spot for him to perform at a club.
"My brother is the reason I got into this whole thing," he said.
Sandler recounted that he began doing stand-up comedy at the age of 17. It didn't click at first.
"I would bomb every night," he said.
Of course, Sandler landed a gig as a cast member of "Saturday Night Live" and was known for being "Opera Man," along with other characters. He went on to an illustrious film career in which he played Israeli secret agent Zohan in 2008's "You Don't Mess with the Zohan." He also made a string of comedies and dramatic films such as 2002's "Punch-Drunk Love."
Interviewed by MTV reporter Josh Horowitz, Sandler was asked whether he had a temper in real life, given that many of his characters suffer from tendencies towards overwhelming rage.
"I've had it for a long time," he said. "I would snap but it would go away very quickly."
He said he was scared backstage to hear that somehow Horowitz had not had a bar mitzvah.
In "Hustle," to prove he is a scout, Sandler's character calls former NBA great Dirk Nowitzki. He asked the 92NY audience what celebrity he could call and a person shouted out that he should call his mother. He said she would always answer even if he called at 3 a.m., and would pretend it was normal.
"She's never admitted to sleeping," Sandler said. "She's always 'resting.'"
One of Sandler's best roles is Howard Ratner, a Jewish diamond dealer and sports gambler in the 2019 crime thriller "Uncut Gems," directed by Jewish brothers Benny and Josh Safdie and co-written by the brothers and Ronald Bronstein. Sandler said that, in a scene in which he is choked in the backseat of a car, the actors were actually choking him.
Sandler said he is working on a new film with the Safdies that is slated to shoot in April. Horowitz asked if the film feels like a heart attack, given that "Uncut Gems" is a nerve-wracking film with an unpredictable twist.
"It feels like one of their movies for sure," Sandler said, adding that there is a romantic element. "They just don't want to do anything you've seen before."
Sandler added that he would get nervous when interviewed on TV by David Letterman and a song he performs on tour about the late Chris Farley, his former colleague on "SNL", made him tear up the first few times he played it. He recounted that Daniel Day-Lewis texts him funny things, but would not reveal them. He also said that he is always uncomfortable in suits, and performed better on "SNL"'s "Weekend Update" segment when he was allowed to ditch the fancy clothes in favor of casual attire.
Asked if he was a genius or lucky to have signed a deal with Netflix in 2014, he said he barely knew what Netflix was, but the streaming giant's CEO Ted Sarandos kept trying to get him to make movies for the service. Sandler stated that while he was shooting a film in Toronto, two teenage boys on a porch said they were watching Netflix, which convinced him to give it a shot.