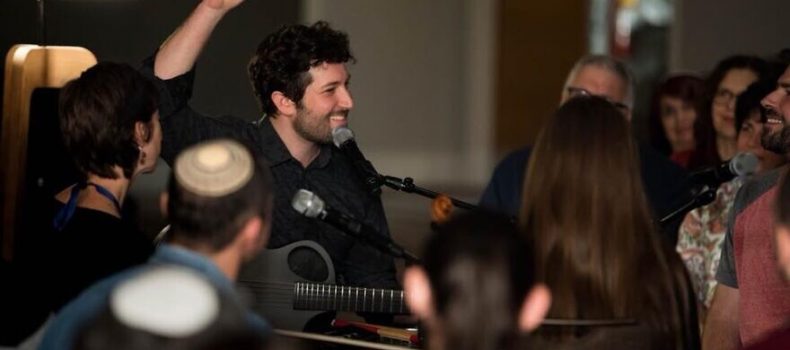 Lifting voices for the High Holidays, even in COVID times
Like Maestro Leonard Bernstein guiding young people through the joys and intricacies of classical music two generations ago, Joey Weisenberg is a gentle, but no less passionate, tutor. He's not teaching about the bravado of a bassoon or the timbre of a tympani, but rather giving would-be High Holiday prayer leaders an intimate tour of the wordless melodies and ancient modes of the Jewish liturgical tradition. It's nigunim and nusach for a new generation, and with the latest video technology. And it's a place where, if you get it right, prayer and musicality meet, the goal being what Weisenberg calls "spiritual artistry."
From a studio in a Philadelphia synagogue's choir loft, outfitted in a billowy white shirt with a Nehru collar as casually stylish as Bernstein's trademark turtleneck, Weisenberg is the picture of a hip ba'al tefillah, or prayer leader. His extensive library of master classes for those looking to lead High Holiday services, newly posted online, ranges far and wide. It moves from the bluesy feeling you get from a flatted seventh note to the emotional punch of a wordless Chassidic melody (nigun) to the beauty of Rosh Hashanah's opening Amidah prayer to the majesty of the Ne'ilah service at the end of Yom Kippur "as the gates are closing," he says.
Called the "High Holidays Training Initiative," Weisenberg, a leader in the movement to re-energize congregational singing and spirituality, has filmed 128 episodes (most run six or seven minutes) that amount to a curated trip through the entire arc of High Holidays davening. Along the way, there is also instruction in the scales and modes that define what Weisenberg refers to as "Nusach Ashkenaz in America."
A prayer leader will pick up hints about the "Freygish" and the "Ukrainian Dorian," modal scales that give ancient chanting its distinctive musical flavor. If that prayer leader has an ear for jazz, he or she might find echoes of the modal jazz that defined the art form in its golden age in the 1950s and '60s. Weisenberg himself is something of an improviser. "Nusach is heavily modal," he says. "Most of the time when people are davening, there are a confined set of notes. But in the singing you're sliding in between the notes. Once you know the sound of the mode, you can improvise within it."
The COVID-19 crisis, of course, has cramped his style. Weisenberg is used to being smack in the middle of a circle of singers or on a tightly packed stage next to fellow musicians with fiddles and banjos and lap-steel guitars in the Hadar Ensemble. But, like many creative types in these plague months, he sees a window opening.
"Every time one thing gets shut down, something else opens up," he says about lockdown and isolation. "I've spent the last 10 or 15 years with the Hadar Ensemble and the Rising Song Institute [both are affiliates of Yeshivat Hadar, the traditional egalitarian yeshiva on Manhattan's Upper West Side] getting close to people and spilling globules via singing. That's not possible now; singing is verboten. But what this time does do is open up a more introverted path toward music-making."
Weisenberg had been getting a lot of calls from people asking for private lessons in prayer leading. He had a library of material he had created a year ago—in a "month-long video spree," he says. And, given the coronavirus, he spotted an opportunity. "This is the perfect time to let people into the world of the ancient tradition for leading prayers and singing wordless melodies. If this terrible pandemic can open up a doorway for people to study and become empowered in their ability to lead song and Jewish prayer, that would be a great outcome from my perspective."
The training-initiatives pilot launched in June; about 200 people are already taking part (it costs $18). "People are joining with very different sets of expectations," says Weisenberg. There are some "established cantors" looking to learn a few new melodies. And there are people who have never led prayers and will be using the material as a crash course for their initial forays into prayer leading this High Holiday season.
The Days of Awe in late September will be filled with uncertainty given the constraints of social distancing. Weisenberg says some of the people taking the master classes will be leading prayers online from their living rooms. Others might be leading small groups of worshippers in backyards. (He'll be leading prayers online for the Kane Street Synagogue in Brooklyn, N.Y., where he was music director; for the last seven years, he's been living in Philadelphia with his wife and four children.) The pandemic, he says, represents "an unparalleled opportunity for people to lead davening. If people can clear away some of the chaotic busyness of their lives, there's a chance to focus in on what they always wanted to learn."
For Weisenberg personally, this time of isolation has sent him into the "woodshed," a musician's colorful shorthand for working alone, often for intense periods, on one's craft. "Despite what I do [in front of the camera on video or live on stage], I'm an introvert," he says. "It's nice to have quieter time with fewer people around to start to dig into the music—to go into the woodshed and practice, compose, study, work in a more solo way."
'Jewish character in the accents and wordlessness'
His work and his old-new aesthetic can perhaps best be gleaned from his "Lincoln's Nigun." (It's recorded on his CD, "Brooklyn Spirituals," the fourth of seven collections of nigunim.) A student of American history (he says most of his German-Jewish family has been in the United States since before the Civil War), Weisenberg was reading Doris Kearns Goodwin's examination of President Abraham Lincoln's politically mismatched cabinet, Team of Rivals. There is a passage in the book that describes Lincoln's visits to the battlefield during the Civil War to meet the Union troops. "As he came down the ranks," says Weisenberg, recalling a scene sketched in the book, "the troops would part ways and they'd let him through, welcoming him in style."
Weisenberg says he read the passage on a Friday night, adapting the new melody he wrote then to the "Lecha Dodi" prayer welcoming the Sabbath Queen, which contains the words, "To your right and your left you will burst forth/And the Lord will you revere." The tune, with its military march riff played on snare drum and with the Hadar Ensemble's old-timey string-band instrumentation, "has a Civil War-type sound," describes Weisenberg. "But it has a Jewish character in the accents and the wordlessness.
"I feel committed to the old Jewish tradition, but as a musician, I have my ears open. You can't close your ears. My music draws from the depth of the Jewish tradition and the depths of the American tradition."
Weisenberg expands on this interplay of the past and the present.
"I've spent a lot of time studying the old traditions, and I'm deeply immersed in it. I feel as if the new compositions are outpourings of the soul—the overflow of the cup of tradition, as in the verse from Psalms 23, 'My cup overflows.' I keep learning old things, the bowl gets full and spills out; that overflow is the new composition, and it fits in the lineage of the older tradition."
'The guide who passes along Jewish musical wisdom'
Weisenberg's musical-spiritual approach has won over many people. His 2017 book, The Torah of Music, earned a National Jewish Book Award. His work at the Kane Street Synagogue in Brooklyn put that congregation at the forefront of the neo-nigun movement, and as the founder and co-director of Hadar's Philadelphia-based Rising Song Institute, he is credited with helping to reinvigorate synagogue singing.
"Joey is a unique talent: he has adapted traditional nusach and given it new meaning," says Nancy Abramson, director of H.L. Miller Cantorial School and College of Jewish Music at the Jewish Theological Seminary. "His use of accessible music and the participation of all congregants during services continues a trend that began in the 1970s." (In some ways, Weisenberg is working the field first tilled by two beloved folk music-inspired figures: the Chassidic/counterculture troubadour Rabbi Shlomo Carlebach and Debbie Friedman, the sweet-voiced singer-songwriter most associated with Hebrew Union College.)
"Joey has been collaborating with JTS for a number of years," continues Abramson. "He teaches our clergy students and has led joyous singing circles with us. Several JTS cantorial and rabbinical students have been active in the Rising Song Institute, some as teachers and some as learners. And many of our students incorporate Joey's unique style in their 'toolbox' when leading services."
That "toolbox" is on vivid display on the master class videos for the High Holidays. Like providing a glimpse into the private marginalia on a composer's score, Weisenberg opens up his own machzor to reveal to the student his personal musical markings (for instance, "1-5-3," to remember proper notes in a given mode). There are scribbles, sections bracketed off to denote where to start and stop, and "notes to self" squeezed into the narrow white space between two lines of black text. It's all in the service of offering hints to the arc and emotion of a melody. There are times when he loses himself in demonstrating a nigun—head raised up, eyes closed, ancient Jewish chanting pulled along into the present day.
The longstanding tradition of the musician-educator—the guide who passes along the Jewish musical wisdom of earlier generations to the new one—is close to Weisenberg's heart. He learned to play harmonica at 11 from Jon Gindick's "Country and Blues Harmonica for the Musically Hopeless." ("That's how I got into playing blues," he says.) And he devoured instructional videos from guitar masters like Nashville's Brent Mason and the late jazz-blues virtuoso Danny Gatton.
"Those videos and instructional materials have been really important to me. They opened up a whole world of music for me. These virtuosos saw beyond their own expression and saw the importance of bringing more music into the world through their teaching. I'm following in that lineage.
"It's not enough just to make music," Weisenberg says, articulating his "rising song" vision. "You have to make everyone make music."