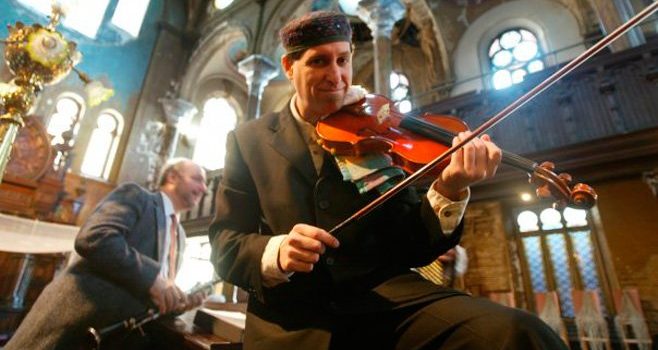 Yale Strom & Hot Pstromi nominated for "2020 San Diego Music Awards" – Please vote!
Hello everyone,
Yale Strom & Hot Pstromi have been nominated for a SD Music Award in the " Best World Music" category. Please take a moment and vote for us. You can vote more than once (but only one time per day) for Yale Strom & Hot Pstromi. Read below the text that is underlined which will tell you where you can vote for us.
Since 1991, the San Diego Music Awards has presented awards to artists and for albums of exceptional merit in multiple categories. Nominees are determined in advance by the San Diego Music Academy, which is includes members of the San Diego music community, music media, talent buyers and more. Voting for nominees in each of the genre categories is open to the public from January 27 to February 26 at 5pm. Album categories are voted on by the San Diego Music Awards Academy and are not open to public voting.
Thank you, Yale


***
Congratulations…you are a 2020 San Diego Music Awards Nominee!
The 29th annual San Diego Music Awards nominees have been announced. And that includes you or your group….congratulations. Here is info that all Nominees will need:

WHY DO WE DO THIS EVENT? ITS FOR THE KIDS. 
SDMA and our affiliated events raise money for the San Diego Music Foundation's Guitars for Schools program. Help SDMA keep music in San Diego County schools by purchasing tickets or donating to this event.

SDMA VOTING: All of the genre categories are voted on by the public. If you are nominated in one of these categories, please let your fans know that it's time to vote at sandiegomusicawards.com. If you are nominated in an album category, the San Diego Music Academy will vote on these awards, not the public. These are all people within the local music community who know local music. Only one vote per person per day will count in vote totals.

SDMA SHOWCASES: We will be doing a number of showcases leading up to the awards show. If your group is interested in performing at one of these shows, please send a brief email to sandiegomusicawards@gmail.com. Just know in advance that we cannot book everyone that wants to perform at these shows. But we encourage everyone to come support these shows by attending one, two or all of them.

NOMINEE TICKETS:  All nominees are offered one complimentary ticket per permanent band member. That means no band managers, booking agents, roadies, wives, sisters, neighbors, session players etc will get free tickets. The comps are only for nominees. And if you are nominated more than once, you still only get one ticket per permanent band member.

While we'd love to give more complimentary tickets to each of you, please remember that SDMA is an event raising money for a cause. So tickets are very limited.

NOMINEE GUEST TICKETS: While the general public will pay between $36 and $75 for awards show tickets, we always offer the SDMA nominees the option to purchase discounted "Friends and Family tickets" for only $25 each.

TICKET ORDERING AND PICK UP: All SDMA nominees will need to send in a ticket order no later than February 27, 2020.

ONE – We need to know a total of exactly how many of your permanent band members will be attending.

And TWO – we will need a total how many of the discounted tickets that you'll need to have reserved. But you need to place your order ASAP, so we can have your order ready. You will have two pick up windows unless you make other special arrangements: March 10-12 or March 17-19, between 11am and 3pm on these dates. Ticket pick up address is 4876 Mount Royal PLACE, San Diego, CA, 92117. Please CLICK HERE to place your ticket order.

ADD'L QUESTIONS: Please email sandiegomusicawards@gmail.com and we will reply to all questions within 72 hours.
Please help us promote the San Diego Music Awards!