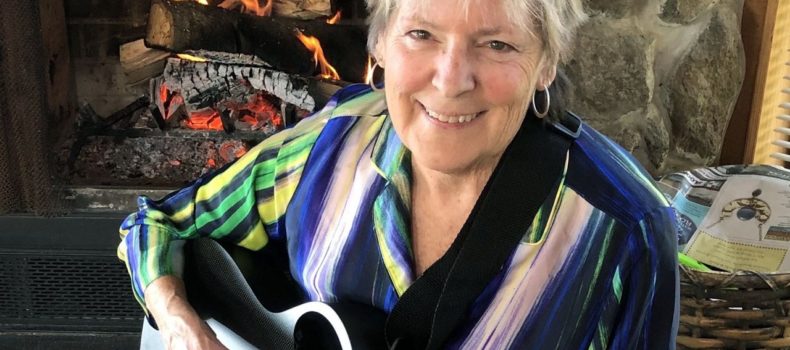 Q&A: A Yiddish-speaking gumshoe with a tapping toe
Gale Kissin, 67, wears several hats. She not only sings and plays guitar and percussion in Mama Loshn, the Yiddish revival band she co-founded, but she's spent decades working with attorneys as a private investigator. Though now "semi-retired," the Sebastopol resident still takes on meaningful P.I. work and looks forward to a full recovery from recent hand surgery, so Mama Loshn can get up and running again.
---
J.: What sort of P.I. work have you done?
Gale Kissin: Criminal defense, civil rights litigation and death penalty work. I did that for years. My last client was killed at San Quentin. When someone is killed by the state, the death certificate reads "homicide" as the cause of death. That is the last case I took for a death-penalty client. I am now doing pro bono immigration work. … When people are facing deportation, they need information immediately to support their case.
Is being a gumshoe as exciting or dramatic as it is portrayed on TV?
I don't have the outfits that Kalinda has [the sexy, hotshot P.I. in the TV series "The Good Wife"], but it's pretty compelling work. It's the liaison between the legal system and the community of people outside. You are venturing into the tragedies of people's lives. You really penetrate the story and have to convince the attorney to listen to the whole story. Yeah, it's pretty compelling.
Did you ever investigate cases involving infidelity?
No, I have never been sitting in a car throwing Burger King wrappers on the floor for hours looking into other people's windows. That's never been of interest to me.
What is your most memorable case?
Our client confessed to a murder he did not commit. Why he did that was a big part of the investigation. This guy had an I.Q. that qualified him as developmentally disabled. The police and D.A. wanted to run with the case. We found an expert in coerced confessions — why would someone confess to a murder they didn't commit? That one was very interesting to me.
Did you win?
We were successful. Maybe that's why it's so memorable.
How did you get into P.I. work?
When I was a student at the University of Pennsylvania, Frank Rizzo, the mayor of Philadelphia, issued 30,000 eviction notices to public housing tenants in one month alone. An attorney in a poverty law firm asked me to help process all 30,000 applications to help these people. I stayed for seven years and worked as a paralegal.
You speak Yiddish and co-founded Mama Loshn, a Sonoma County-based band with one CD. What's the backstory?
I grew up in Brooklyn speaking Yiddish and English with my grandparents on both sides, and I loved it. My parents didn't have secrets around us in Yiddish, because we were educated in Yiddish in Workmen's Circle classes. Everyone was musical in my family: My mother was a classical pianist, my father was a jazz musician.
As I grew older, after studying everybody else's kind of music, I started to feel an obligation to come back to the Yiddishkeit. Around 2011, I teamed up with [guitar player] Suzanne Shanbaum to found Mama Loshn. The core group included guitar, vocals and percussion [Rhonda Findling]. Later trumpet player Mike Margulis from Berkeley joined the band.  We have periodically been joined by other talented local guest musicians. We play at synagogues, holiday parties, bar mitzvahs, weddings, Bay Area JCCs and Klez California events as well as other musical venues … also at Le Bateau Ivre French restaurant in Berkeley.
How would you describe Yiddish music?
Not all Yiddish music is klezmer. In Mama Loshn, it's the folk music of Yiddish-speaking people. We also sing in French, Spanish, Ladino, Hebrew and English. We were drawn to pull some of the incredible poetry that's put to music in the 19th and 20th centuries; there's also a lot of social justice and labor songs. It's eclectic in a way. It's funny, it's poignant, it's soulful. It's great stuff.
You also play an active role at the Sonoma County JCC.
I've been on the board for about a year and currently serve as vice president. Before that, I worked with the executive director on music programs such as Simcha Sunday, Yom HaShoah commemorations and other benefit events,. I also volunteer on the Sonoma County Jewish Film Festival committee.
The JCC is a wonderful, vibrant organization that sort of catches people that aren't necessarily affiliated with a synagogue. The wandering Jew that I am, that suits me just fine.
Do you ever run into people who speak Yiddish?
Once in a while I find somebody to talk with, but I'm not in Brooklyn anymore, Toto.
"Talking With" focuses on local Jews who are doing things we find interesting. Send suggestions to sueb@jweekly.com.