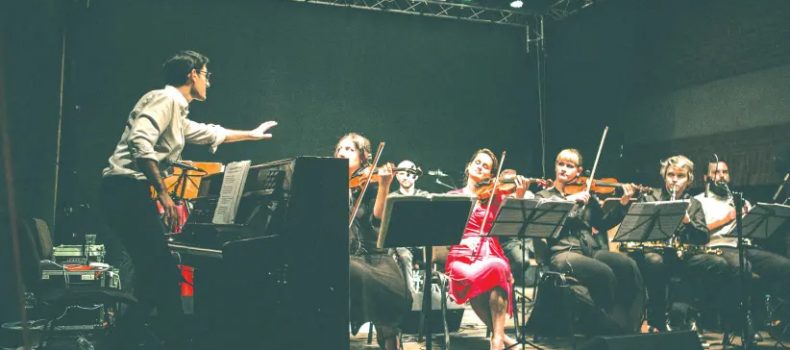 From Poland with piano love
Nostalgia, as the worldy-wise might observe, ain't what it used to be. Noam Zylberberg takes that line, too, even though his principal form of artistic expression delves into the past, the Polish past to be exact.
Zylberberg, whose grandparents hail from Poland, reverted to his roots and has been a resident of Warsaw for the past four to five years. For much of that time he has fronted his own ensemble, which goes by the name of Mala Orkiestra Dancingowa – Little Dance Orchestra – with which he will perform in the Studio space of the Jerusalem Theater on Thursday (10:30 p.m.) as part of this year's Pianos Festival.
The entire four-day program (November 13-16) has a Polish scent to it, with many of the concerts devoted to works by Chopin, although not all pertain to the classical genre.
The Guy Mintus Trio, with bassist Omri Ever-Hadani and drummer Yonatan Rosen, for example, will deliver some jazzy and other improvised takes on Chopin preludes, nocturnes and mazurkas at the Rebecca Crown Auditorium at 6 p.m. on Thursday, with plenty of groove and even some flamenco intent thrown in for good measure. And pianist Omri Mor's early Improvising Chopin slot on Friday (10 a.m.) will see the gifted musician fuse a multitude of styles and disciplinary strands through the base material, including Andalusian music, jazz, blues and Arabic textures.
The title of the Zylberberg show, "Tango into the Night," alludes to a freer and shake-a-leg slant on Polish music.
"I hope some people will dance while we play," says the pianist-troupe leader. "There will be some chairs but also plenty of room to dance, too."
You might say it was only natural for Zylberberg to find his way to Polish music, and to relocate to Warsaw, but it takes a little work to get to the core of the motives for his career and geographical shift.