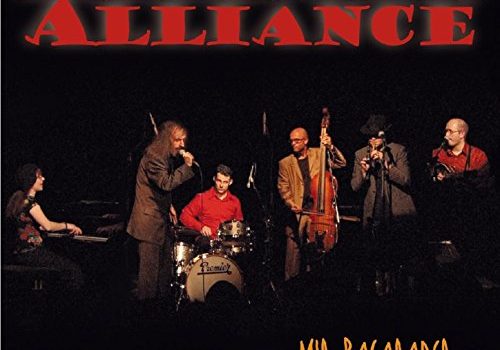 "Mir Basaraber", by Klezmer Alliance
Klezmer Alliance stands for dance grooves that make your feet tingling just as for inventive and gorgeous Yiddish songs that gladden your heart, performed by a passionate and experienced ensemble.
HOT is the voice of Klezmer Alliance: the intense and charismatic singer Efim Chorny from Kishinev, Moldova, whose presence on stage and spontaneous humour are legendary. Chorny's original compositions are fresh but also lend themselves convincingly to the klezmer traditions of several generations past.
Tracks:
A gutn ovnt (Efim Chorny) 01:14
Moldovan Sirbas (Trad. / arr. Klezmer Alliance) 01:38
Dos bisele shpayz (Efim Chorny/Meir Harats) 04:23
Tsigele-Migele (Chorny/Harats) 03:15
Doyne (Zelik Barditshever / arr. K.A.) 04:40
Sara Mandrika (Trad./Chorny / arr. K.A.) 04:14
Chassidic Suite, part 1 (Trad./Chorny / arr. K.A.) 06:22
Chassidic Suite, part 2 (Trad. / arr. K.A.) 04:10
Mir Basaraber (Chorny/Harats) 04:29
S'iz fintster in gas (Chorny/Harats) 02:24
Homentashn (Trad./M.Pirozhnikov / arr. K.A.) 04:44
Guy goes meshugge (Trad. / arr. K.A.) 10:07
Dute, Dute, Dorule / Bade, Ciobanas La Oi (Trad. / arr. K.A.) 07:29
Monarkhishe Idilie (Chorny/Harats) 03:37
Haynt Iz Purim Brider (A.Goldfaden/M.Rivesman / arr. K.A.) 06:37
Vus iz a doyne? (Klezmer Alliance/Chorny) 04:41
A gute nakht (Efim Chorny) 01:26
Listen to this CD, click here.
Total Time: 75:55
The Klezmer Alliance are:
Efim Chorny: Vocals
Thomas Fritze: Double bass
Susan Ghergus: Piano
Guy Schalom: Drums, Storytelling
Andreas Schmitges: Guitar, mandolin, vocals
Bernd Spehl: Bb & C clarinets, flutes, vocals
Produced by Guy Schalom & Andreas Schmitges
Release date: 20th of October, 2007