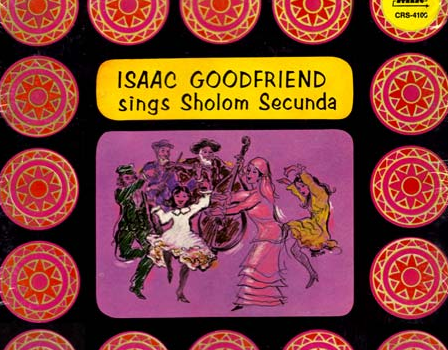 Isaac Goodfriend Sings Sholom Secunda
Isaac Goodfriend was born in January of 1924 in a small town in Poland, forty-four kilometers south of Łódź. He was raised in an ultraorthodox Jewish household until the war broke out when he was 15 and his whole world was turned upside down. Cantor Goodfriend recounts losing his family during the Holocaust, what life was like in a Polish ghetto, escaping from a labor camp, and just doing his best to survive day to day.
Skripe Klezmer (Play Fiddle Play)
Lyrics By – Chaim Tauber
Faith Alone
Written-By – Fran Ziffer, Hardy Wieder, Sholom Secunda
Zemiros
Lyrics By – Jacob Jacobs
Zing Shtil (Sing Softly)
Lyrics By – Wolf Jounin
Music By – Shalim Secunda*
The Wandering Jew
Lyrics By – Sholom Secunda
B1 Vos Du Vilst Vil Ich Oych (Your Wish Is Mine)
Lyrics By – Jacob Jacobs
B2 Ven Ich Zol Zain A Shnaider (If I Were A Tailor)
Lyrics By – Abraham Joachimovicz
B3 Mein Yiddish Meidl (My Yiddish Girl)
Lyrics By – Anshel Shorr
B4 Bar Mitzvah Song
Lyrics By – Jacob Jacobs
B5 Mensh Lomir Benshn (Let Us Say Grace)
Lyrics By – Wolf Younin*
Sociétés, etc.
Recorded At – LeFerve Sound Studio
Crédits
Arranged By – Sholom Secunda
Orchestra – Sholom Secunda Orchestra
Vocals – Isaac Goodfriend