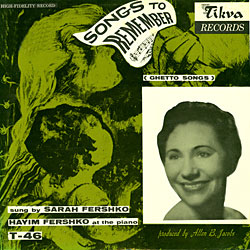 Song to Remember, by Sarah Fershko
Sarah Fershko was born in Poland, she graduated The Warsaw Conservatory. World War II interrupted her career. However, her soprano voice continued to develop in spite of suffering caused by the war.After the war, Mrs, Fershko went to live in Israel with her husband, the noted pianist-composer Hayim Fershko. In her new homeland, she pursued her career as a concert singer.
She appeared with her husband in recitals throughout the country, and is a frequent performer over the Israeli broadcasting system, Kol Yisrael in the U.S.A. She performed successfully before most important and mixed audiences.
Song to Remember, by Sarah Fershko
1 – S'brent
2 – Dialog mit Sechl
3 – Partisaner Lid
4 – In Ghetto
5 – Nein
6 – Kinder
7 – Farwos is der himel
8 – Vemen sol ich shenken meine teg
9 – Lutzk
10 – Mein Tfile
11 – Am Israel chai
12 – Menutn fun betochn