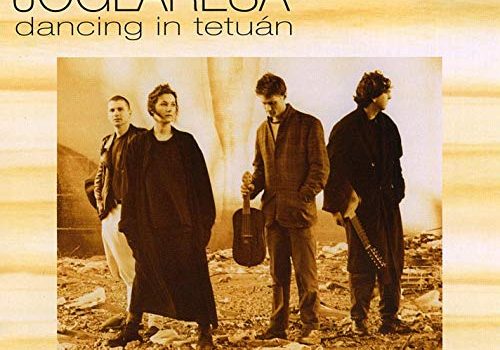 Dancing in Tetuan, by Joglaresa
Judeo-Arabic dance songs, Sephardic wedding songs, Berber rhythms and Moorish romanzas from the heady, hot spices of Andalusia and the Maghreb.
Joglaresa has a sound that is at once traditional and contemporary – combining intoxicating elements of Middle Eastern, Latin and Celtic musics. With flamenco guitar, oud, darabuka, bendir, cláirseach and searing vocals they meld together a sound that is both extrovert and personal.
"carnival-like exuberance … enjoyable and virtuosic" FROOTS Magazine
"A superior collection of first-rate musicians" Songlines Magazine
Includes songs by Rabbi Yehuda Halevi of Tudela (d.1146), Moses Ibn Ezra of Granada (d. c.1140), Solomon Ibn Gabirol of Saragossa (d. c.1058) and Todros Abulafia of Castile (d.1306) – many of these songs survive in today's aural traditions, and in places as far-flung as Tangier, Sarajevo and Calcutta.
Hibbi Zawidni Qublah
Esta Muntanya d'enfrente
Bailava en Tetuán
Adonai Shamati
Ya hadiya raka'ib
Kondja Mia, Kondja Mia & El Nora Alila
Hija Hermosa Sin Ventura
Durme, Durme
Triste está el rey David
Law Kana Ishqu Bi L-Qubal
Adon Haslihot
Sama'i bayyati
Galleas
Instrumental
Simeni
Una Matika De Ruda
La Novia Entre Las Flores