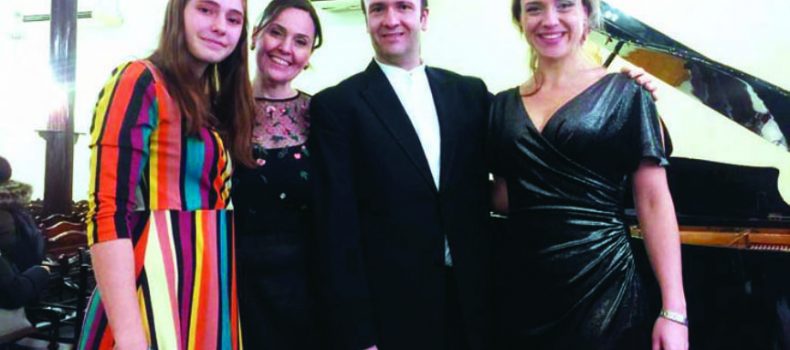 The dance of musical notes at Izmir Bet Israel Synagogue
Izmir Bet Israel Synagogue hosted an interesting and highly academic concert featuring soprano Linet Saul, mezzo soprano Lori Sen, pianist Jerfi Aji and Linet & Moris Saul's daughter Kamilla.
Soprano Linet Saul who is an associate professor at 9 Eylul University State Conservatory, mezzo soprano Lori Sen who is doing her doctorate on vocal performance at University of Maryland School of Music, pianist Jerfi Aji from John Hopkins University Peabody Conservatory and Kamilla who is following her mother Linet Şaul's footsteps, gave a concert.
The common trait of all these artists is that Izmir has been a part of their lives at some point. Born in Istanbul, soprano Linet Saul married Moris Saul from Izmir and is still living in Izmir with her family. Mezzo soprano Lori Sen was born in Izmir and is currently studying in USA. Jerfi Aji's family originates from Izmir Asansor and had moved to Istanbul Cihangir a long time ago. Even though the family has been living in Istanbul for such a long time, they are still deeply connected to their Izmir roots.
Nearly 450 people were in the audience including various prominent figures from general public and from Izmir Music Akademia.
Before the concert, Sami Azar, leader of Izmir Jewish Community gave a welcoming speech. After introducing the performers, Azar gave brief information about Izmir Jewish Community and its history.
In the first part of the concert, the ensemble performed compositions by Xavier Montsalvatge, Manuel de Falla, Claude Debussy and Manuel Panella. In the second part, the ensemble performed Sephardic songs in Ladino language. The performance of the ensemble and especially Kamilla Saul who is following her mother's footsteps received standing ovation.