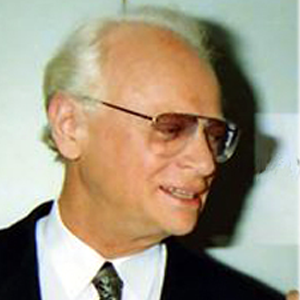 Birth Date
August 23, 1924
Birth Place
Budapest, Hungary
Death Date
January 29, 2005
Death Place
Appenzell, Switzerland
Ephraim Kishon was born in Budapest, Hungary in 1924 into a middle-class Jewish family. Born as Ferenc Hoffmann, Kishon graduated at a high school of metal sculpture and studied art history. He began publishing humorous essays and scripts for the theater in Hungary.
During World War II the Nazis imprisoned him in several concentration camps. In one camp, his chess talent helped him survive as the camp commandant was looking for an opponent. In another camp, the Germans lined up the inmates shooting every tenth person, passing him by. He later wrote in his book The Scapegoat, "They made a mistake—they left one satirist alive." Kishon managed to escape while being transported to the Sobibor death camp in Poland, and hid the remainder of the war disguised as Stanko Andras, a Slovakian laborer.
After 1945 he changed his surname from Hoffmann to Kishont to disguise his Jewish heritage and returned to Hungary to study art and publish humorous plays. He immigrated to Israel in 1949 to escape the Communist regime, and an immigration officer gave him the name Ephraim Kishon.
In Israel, acquiring a mastery of Hebrew with remarkable speed, Kishon started a regular satirical column in the easy-Hebrew daily publication, HaOmer, just after two years in the country. From 1952, for over thirty years, he wrote the column "Chad Gadya" in the daily paper Ma'ariv. Devoted largely to political and social satire but including essays of pure humor, it became one of Israel's most popular columns. His extraordinary inventiveness, both in the use of language and the creation of character, was applied also to the writing of innumerable skits for theatrical revues.
​
Collections of his humorous writings have appeared in Hebrew and in many translations. Among the English translations are Look back Mrs. Lot (1960), Noah's Ark, Tourist Class (1962), The Seasick Whale (1965), and two books on the Six-Day War and its aftermath, So Sorry We Won (1967), and Woe to the Victors (1969). Two collections of his plays have also appeared in Hebrew: Shemo Holekh Lefanav (1953) and Ma´arkhonim (1959).
His works have been translated into thirty-eight languages, the majority of which were sold in German speaking countries—over fifty million books. Kishon rejected the idea of universal guilt for the Holocaust and had many fans in Germany. Kishon said "It gives me great satisfaction to see the grandchildren of my executioners queuing up to buy my books." Friedrich Torberg was his key translator to German, until he died in 1979; thereafter Kishon himself wrote in German. Ultimately, he wrote over fifty books.
His first marriage was in 1946 to Eva (Chawa) Klamer. In 1959, he married his second wife Sara (née Lipovitz), who died in 2002. In 2003, he married Dr. Lisa Witasek. Mr. Kishon died on January 29th, 2005. He has three children: Raphael, Amir and Renana.
Awards
In 1953, Kishon won the Nordau Prize for Literature;
In 1958, he won the Sokolov Prize for Journalism;
In 1964, he won the Kinor David Prize;
In 1998, he was the co-recipient (jointly with Nurit Guvrin and Aryeh Sivan) of the Bialik Prize for literature;
In 2002, he was awarded the Israel Prize for lifetime achievement & special contribution to society and the State of Israel. Upon receiving the prize, he remarked: "I've won the Israel Prize, even though I'm pro-Israel. It's almost like a state pardon. They usually give it to one of those liberals who love the Palestinians and hate the settlers."
Kishon was nominated twice for an Academy Award for Best Foreign Language Film and three times for a Golden Globe Award. He won two Golden Globe Best Foreign Language Film Awards, for Sallah Shabati (1964), and The Policeman (1971).