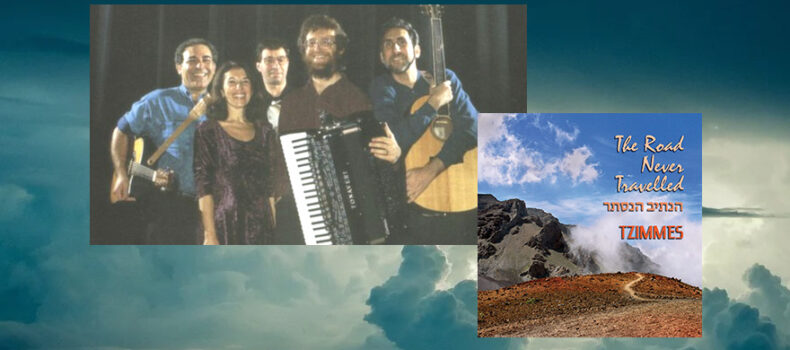 Tzimmes Offers Full Array of Jewish Music in 'The Road Never Travelled' CD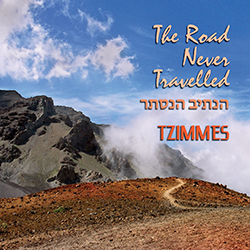 Tzimmes, the Vancouver-based Jewish band under the direction of Moshe Denburg, has just released a two-disc recording, The Road Never Travelled, celebrating  its 35th anniversary. This is the group's fourth album.
Denburg figures prominently in all the selections, as vocalist, guitarist, composer or arranger. The Montreal native, son of Orthodox Rabbi Chayim Denburg and Yiddish singer Miriam Denburg, attended Yeshivah University, following in the footsteps of his father and older brother, Judah Denburg. There, along with religious studies and academics, Moshe learned to read and notate music. Studies at the Hebrew University in Jerusalem and Jerusalem's Music Academy furthered his Judaic and musical education. World music then beckoned, with time spent in India and Japan. In addition to forming Tzimmes, in 1986, a band frequently hired for British Columbia's Jewish simchas, Denburg, 15e years later in 2001, founded The Vancouver Inter-Cultural Orchestra, an organization for which he still composes and with which he remains affiliated.
With such a background, it is no wonder that this recording, of mostly Jewish music, is not only a mixture of Jewish genres, but also has unusual instruments such as the Persian Daf (frame drum), the Indian Bansuri and the Japanese Sarangi (bowed stringed instrument).
The first CD has a variety ranging from the Djudeo-Espanyol Cuando El Rey Nimrod, set to a Flamenco-style Bulerias 6/8 beat, to the Yiddish Oyfn Veg, with lyrics by the Yiddish poet, Itsik Manger, sung in charming trio by Fabiana Katz, Amy Stephen, and Denburg.
A Yemenite melody is the setting of Ahavat Hadasa (The Love of Hadasa) by the 17th century Yemenite Jewish poet, Mori Shalem Shabazi, and Libi V'Mizrakh (My Heart is in the East) by the 12th century Spanish Jewish poet, Yehuda Halevi.  It displays the skills of each of Tzimmes' talented members with improvisational-like variations played by Saul Berson, clarinet, Amy Stephen, accordion, Denburg, guitar, lead vocal, Yona Bar-Sever, lead guitar, back-up vocal, Tim Stacey, bass, and Phil Belanger, drums.
Joy to Your Land, a traditional melody of the Modjitzer Hassidim and Moishe's Freylakh, by Denburg, are given joyful Klezmer treatment while Mashiakh Hazaken (Messiah The Elder) based on an old Israeli song sung in the 1964 movie, Sallah Shabati, has added material by Denburg.
Two English ballads with lyrics and music by Denburg, The Road Never Travelled, and Sweet Melissa, showcase Denburg's gifts as a lyricist and creative composer of melodies, rivaling his more famous fellow Montreal-born bard, Leonard Cohen. Sweet Melissa has some interesting solos by Yuji Nakagawa on the Sarangi and Pepe Danza on the Bansuri.
The second disc, entitled Liturgy Lane, opens with a haunting setting of Hashmi-ini (Let Me Hear Your Voice) from The Song of Songs, baritone and mezzo-soprano vocals accompanied by violin, cello, bass and guitar.
Denburg's original music for the Sabbath Candle Lighting and the Sabbath Hymn, Shalom Aleichem, are followed by Myrna Rabinowitz's waltz-like Adon Olam (Ruler of the Universe). Simkha L'Artsecha (Joy to Your Land), is another melody of the Modjitzer Hassidim arranged by Denburg. Shiviti Adonai'L'Negdi Tamid  (I Have Set Hashem Always Before Me) features the beautiful soprano voice of cantorial soloist, Naomi Tausig, blending with Denburg . They are accompanied by accordion, guitar, violin and cello.
A highlight of this second disc is Vechitetu (Swords Into Ploughshares). The virtuoso hand drumming on the Daf by Persian drummer, Adel Awad, truly punctuates the beating of the swords, followed by a recitative-like Lo yisa goy el goy kherev (Nation shall not lift up sword against nation) whose declamatory melodic ascendance emphasizes the words.
The final song on both discs is a Beatle song, In My Life by Lennon/McCartney. At the conclusion of the first disc, it is sung in English. At the end of the second disc, it is rendered in a beautiful Hebrew translation, Biy'mei Hayai (The Days of My Life). It is understandable why this song has such special meaning to Moshe Denburg, a septuagenarian. He also dedicates several songs to his partner, Naomi Arney, who joins in with vocals in his Sabbath candle lighting music.
When I asked my British Columbia cousin, Trudy Harowitz, former director of the Shalom Dancers of the Vancouver Jewish Community Center, about Denburg, she recalled his ensemble accompanying her dancers in programs, and told me about the high esteem in which Tzimmes is held in the Jewish communities of British Columbia. The band has also performed at festivals in the United States and Mexico.
These two discs truly are a tsimmes of genres. beautifully represented by a stellar troupe of fine musicians under the direction of Moshe Denburg.  The band's website is www.tzimmes.net
Republished from San Diego Jewish World