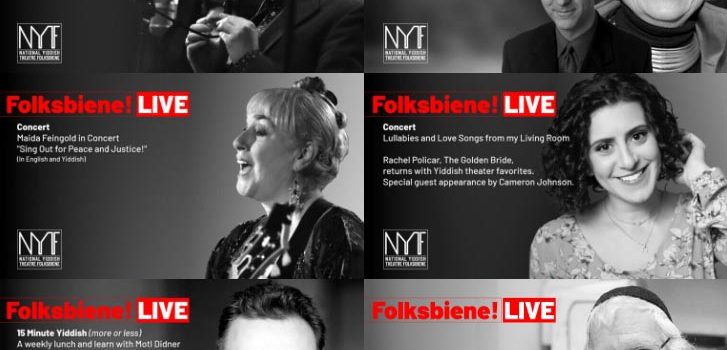 July: Folksbiene! LIVE programming
July is finally here. The temperature outside is heating up and so are our Folksbiene! LIVE shows. All start at 1 PM ET and can be viewed anytime after that at NYTF.org/live.
July 7th, test your knowledge once again with Mikhl Yashinsky and The Great Yiddish Theatre Quiz (Vos-Ver-Vu) – Part Tsvey. Enjoy this friendly competition for fabulous Folksbiene prizes and meet new friends.  Click here to register and play!
July 15th is a great day for great conversations. Join Television and Radio Personality Budd Mishkin and meet Louise Kerz Hirschfeld, widow of Al Hirschfeld and former President of The Al Hirschfeld Foundation. Hear all about her life, career and everything Al Hirschfeld.
July 22nd welcomes the return of songstress Maida Feingold and her Sing Out For Peace and Justice living room concert. These great folk songs of significance will be in both Yiddish and in English. You won't want to miss this!
July 29th The temperature continues to get turned-up with more of NYTF's summer songs. The Golden Bride herself, Rachel Policar and special guest Fiddler on the Roof in Yiddish's Feyedke, Cameron Johnson, will be singing lullabies and love songs that will have you all swooning!
Tuesdays with Motl can't be beat! Learn or brush-up on your Yiddish – 15 minutes (more or less) at a time. (Exceptionally presented on Wednesday, July 8 at 1PM)
Finally, Thursdays in July will have you singing-along to many of your favorite, treasured Yiddish songs. Join beloved maestro and impresario, Zalmen Mlotek for Yiddish Theatre Favorites on July 9th, Songs of Yiddish Summer Camps Sboiberik & Hemshekh on July 16th and on July 23rd and 30th listen to your special requests and dedications.