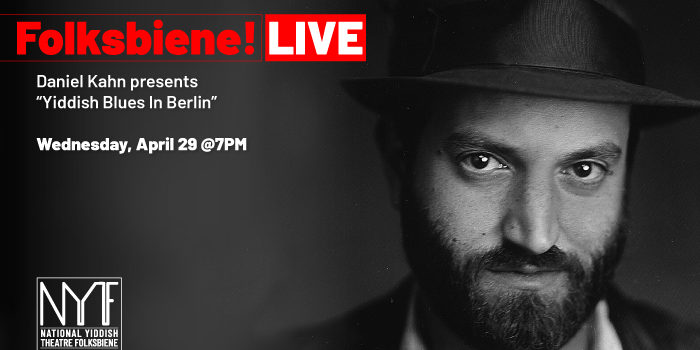 Daniel Kahn presents "Yiddish Blues in Berlin"
Featuring new and old songs of hope and despair in Yiddish and English. The Detroit-born and Berlin-based Kahn has toured the world as a singer/songwriter, multi-instrumentalist, translator, and teacher.
He originated the role of Pertshik in National Yiddish Theatre Folksbiene's Fiddler on the Roof in Yiddish (Fidler afn Dakh), which features his translation of the lost Bock/Harnick song "Any Day Now." He also was Yosl in Folksbiene's acclaimed remount of Amerike – The Golden Land, and played Biff in New Yiddish Rep's Death of a Salesman in Yiddish. At Berlin's Gorki Theater, he has worked as composer, director, playwright, actor, and music curator. In 2016, the Ashkenaz Foundation named him the inaugural Theodore Bikel Artist-in-Residence. In 2018, he received the Chane and Joseph Mlotek Award for Yiddish Continuity, and he recently appeared in Netflix's Unorthodox. His music projects include his award-winning klezmer punk band The Painted Bird, The Unternationale, The Brothers Nazaroff, The Disorientalists, Bulat Blues and Semer Ensemble.
To watch the performance:
Simply visit our website at www.nytf.org/live at 7:00 PM EST or Folksbiene's Facebook page at www.facebook.com/Folksbiene. You can also click the red button below for easy access.
If you can't hear the program once it begins, please make sure the volume on your device is turned on and also make sure the tiny picture of a speaker in the bottom right corner of the video is clicked so that there is no x near it.
Remember, you can always watch these videos at any time – or catch up on past episodes – at our website.