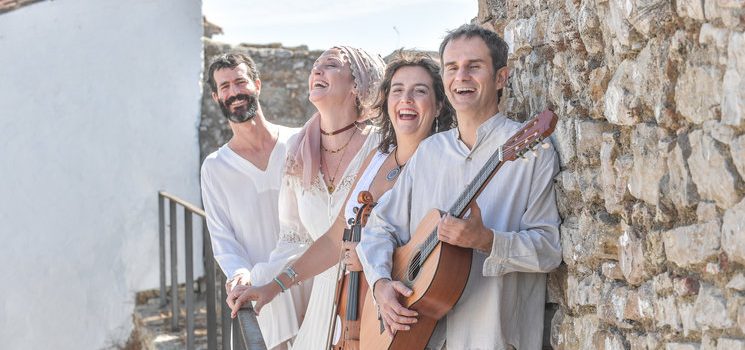 Liona and Serena strings: 'Sefarad, Sephardic music in ancient Spain'
Liona & Serena Strings emerged in 2013 making versions of Brazilian, Spanish, Hebrew, African and Arab songs, to gradually develop their own identity as a group. Being Hebrew and living in Spain, Liona leads the group towards what is its musical essence and focuses it on Hebrew and Jewish music originated in Spain and the Iberian Peninsula. In 2014 this road is reflected in the edition of his first album Chimes.
Now they present Sefarad, a compilation of music from different generations throughout Hebrew history. Through the didactic concert the public approaches the medieval era in Spain and actively participates, singing in Hebrew and old Castilian, as well as collaborating with the musical rhythms of the songs (body percussion). You learn about the multicultural coexistence that was lived in Spain at that time as an example of peace.
Repertoire: Morenika / Highlands / Mi Ha ish / Avinu Malkenu / Tres Morillas / Goodbye Darling / Puncha Puncha / Yeshena / Hayedu Hadmaot / Libi Bamizrah / Adonay Sefatay tifetah
THE GROUP
Liona Hotta, voice.
Singer, teacher of development and vocal awareness, is an author and composer; His music is deeply influenced by Mediterranean rhythms, Arab nomads and Jewish-Hebrew folklore originating in the Eastern countries. Raised with the music that Brazilian immigrants brought to her hometown, the mix of cultures and languages ​​have been protagonists in her artistic career.
Oscar Berguillos, guitars.
Guitarist, arranger, producer and composer born in Barcelona in 1976, this musician is characterized by his eclecticism from his interest in world music. Although his training is mostly self-taught, he has studied music in London at 'Acces to music '. He was a finalist of the Imaginarock Chain 100 contest in 1996 with the rock group Chicanos. After leaving the band he lived in London, where he collaborated and recorded with different artists of the folk scene. He currently works as a guitar teacher at the municipal music school of Algeciras (Cádiz) 'Jose Ma Sánchez Verdú' and at the SAMA school (Gibraltar).
Pilar López, Violin / voice
She has a degree in violin at the conservatory 'Oscar Esplá' in Alicante and a Master in Psychotherapy in Buenos Aires. He has belonged to several groups of different musical styles during his musical career. He has played with Notes Soltes (traditional Valencian music) and with the Maraña group, with which he won the I Young Performers contest in Alicante in 2005.
Juan Díaz, Chelo / Voice
He began his musical studies at the Conservatory of Alicante at age 11. With the help of Francesc Pastor, he performs with excellent results the violoncello career, which ends at age 23 with an Honors License and Extraordinary Prize for the Final Degree. During this period of time he receives master classes from great personalities of the violoncello such as María de Macedo, Gary Hoffmann or Jean Marie Gammart. Later, he enters the Kunst Universität Graz, where he will spend 3 years perfecting his technique with Professor Kerstin Feltz, continuing his artistic development under the tutelage of Professor Elena Cheah, soloist of the Staatskapelle in Berlin.