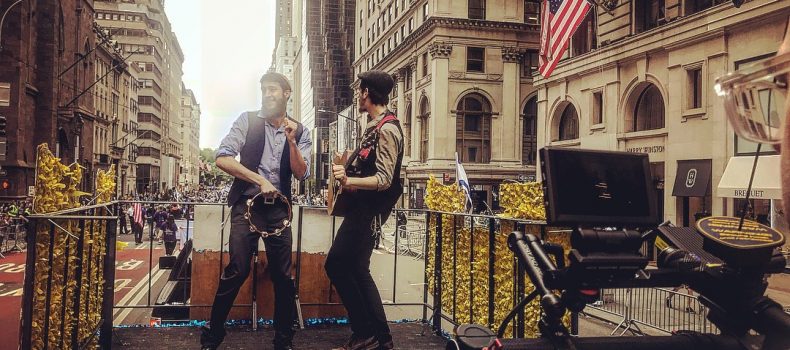 Meet the 2 Hasidic Folk Stars Who Are #BringingYiddishBack -Rogers Park – Geulah
Rogers Park delivers once again a heartfelt single with a taste of the past, accompanied by a fresh music video. Produced and directed by Sparks Next Productions (Danny Finkelman). This video for "Geulah" has Mordy Kurtz and Yosef Peysin walking the streets of Manhattan spreading the message of Moshiach to the participants at the Celebrate Israel Parade gathering a crowd of over 100 Yidden to dance and chant "We Want Moshiach Now!".
The song is part of their newly released album "Petersburg". Their first album "The Maggid" (2016) quickly got recognized and made a name for the band as an energetic  original music group.  Their new highly anticipated album "Petersburg"  is dedicated to the Chassidishe velt with niggunim that can lift you up, like "Ufaratzta", "Oyfin Pripichik", and "Michel Zlochiver's Niggun" enveloped with the classic Rogers Park sound that we love.
Rogers Park – America's Hasidic Folk-Rock Band;
Petersburg iTunes link:  https://geo.itunes.apple.com/us/album/petersburg/1418991084?app=itunes