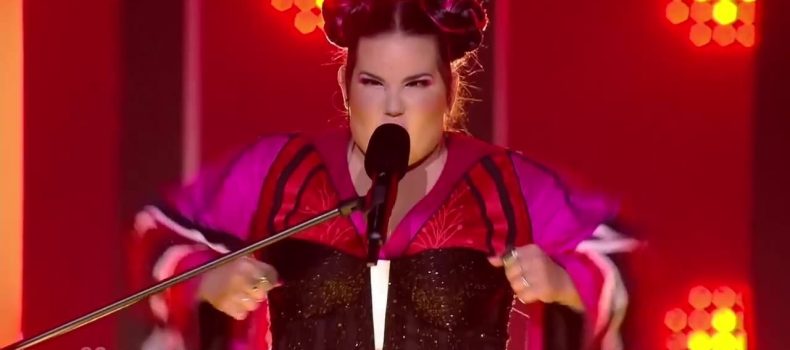 What's Your Favorite Israeli Eurovision Song of All Time?
ove it or hate it, the Eurovision has always held a special place in the heart of many Israelis. The contest many love to hate has produced some of Israel's best-known and most-loved songs over the years.
So with Eurovision 2019 less than 2 months away, Kan Broadcasting recently posted a survey to ask viewers, "what's your favorite Israeli Eurovision entry of all time?"
Kan released the top 5, and the results are not shocking. All of the top 5 performed very well in the contest, though there were some surprises. For example, "Halleluyah", which won the Eurovision in 1979, came in 6th, while "Abanibi", another Eurovision winner from 1978, didn't even make the top 10.
Without further ado, here are the top 5 Israeli Eurovision songs, as voted on by participants in the survey:
5th place: Nadav Guedj – "Golden Boy" (2015)
Nadav Guedj was the winner of season 2 of "HaKochav Haba", earning him the privilege of representing Israel in the Eurovision. "Golden Boy" was Israel's first Eurovision entry sung entirely in English. The song finished in 9th place in the 2015 Eurovision Song Contest.
4th place: Ofra Haza – "Chai" (1983)
A true Israeli classic, "Chai" almost won the Eurovision, finishing the contest in 2nd place in 1983. Nevertheless, its lyrics capture the Israeli spirit in a way that few other songs can match, as evidenced by Koolulam's version of the song in honor of Holocaust Remembrance Day 2018.
3rd Place: Dana International – "Diva" (1998)
Israel's third Eurovision victory came in 1998, with a song written by Tzvika Pick and performed by Dana International. Dana's sexual identity probably generated more buzz in Israel at the time than the song itself…that is, until Dana won the contest. The song became a big hit worldwide, and has been translated into English and Russian among other languages.
2nd place: Shiri Maimon – HaSheket SheNishar (2005)
Having won a heated Pre-Eurovision Song Contest in Israel, Shiri went on to place 4th in the 2005 Eurovision – helping her to become a star around the world. Until "Toy", this song had seen Israel's best Eurovision showing in many years, and remains one of Shiri's most popular songs in Israel.
1st place: Netta Barzilai – "Toy"
We won! We won! Nearly a year after the 2018 contest, Israelis still haven't gotten over the fact that Israel won the Eurovision after a 20 year dry-spell. Netta has since gone on to fame and fortune around the world, and has become a role model for those willing to look and act just a bit differently than everyone else.
---
There you have it: the top 5 most loved Israeli Eurovision entries of all time. Kobi Marimi will sing "Home" – Israel's 42nd entry to the contest – this May.
By the way, these results were slightly different from our own Israel Hour Radio poll, conducted last summer. Our top 5? 5. Netta Barzilai – Toy; 4. Chalav U'dvash – Halleluyah; 3. Yizhar Cohen – Abanibi; 2. Orna and Moshe Datz – Kan; 1. Ofra Haza – Chai
What's your all-time favorite Israeli entry to the Eurovision Song Contest?