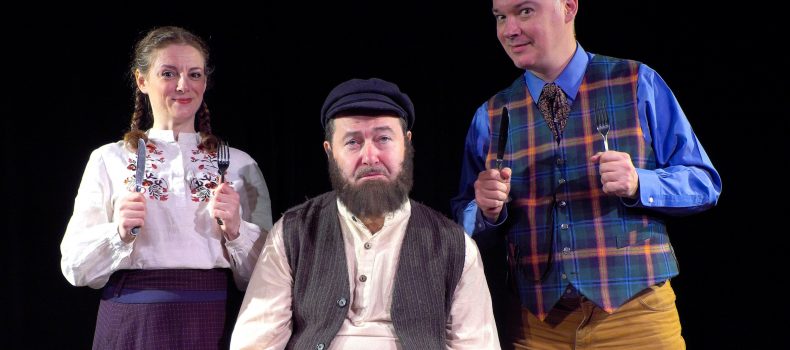 TEVYE SERVED RAW comes back up again!

TEVYE SERVED 

RAW

 


premiered in July.
And every review was a rave.
"Riotously funny"
— This Week In New York
"Exceptional performers with a real command of the language… Something to see"
— Jewish Standard
"Uproarious and deeply touching… A sheer delight"
— BlogCritics
"Brings back the real Tevye"
— CurtainUp
"It's not possible to be more authentic… Tears flow between belly laughs"
— Chelsea Now
"Tasty comedy and searing drama equally served up in generous portions… A mesmerising Tevye"
— Lavender After Dark
"Lovingly crafted… Splendid stories, superbly acted… A tear in the eye, plus belly laughs and character galore…Tevye's dilemma will pull all your heartstrings. Every single one."
— TheaterScene
"Incredibly moving — and hilarious"
— Tablet
That was just the critics.
This is what audience members had to say.
"So excellent!"
"Superb!"
"Outstanding!"
"Amazing!"
"Phenomenal show!"
"Beyond beyond!"
"I laughed, I cried, I got investment advice!"
"So much fun!  Such talent!"
"Wonderful!  Do more!"
"A technical and artistic miracle!"
"Best show I saw in 2018!"
"Best show EVER!  We LOVED it!!"
"We loved every moment!"
"Oh, that delicate and refined Berditchever Stepmother Patois!"
"Sholem Aleichem would have been kvelling if he were here tonight!"
"What a joy!  Great stories, acting, chemistry… I laughed until I couldn't anymore!"
"Today was my birthday, and this play was the best present I could have wished for"
"I haven't laughed as much in ages — and so very touching"
"Thank you so much!  Greetings from Taiwan!"
Now Tevye's coming back — for ten more performances.
The Congress For Jewish Culture
i.a.w. Benjamin Feldman and Khobzey Inbud, LLC
presents


including
What They Left Out Of "Fiddler"
plus the stories
"Strange Jews On A Train"
"The Yiddish Sisyphus"
and
"A Stepmother's Trash-Talk"
with Yelena Shmulenson, Allen Lewis Rickman
the shtetl couple from A SERIOUS MAN
and Shane Baker
the best-loved Episcopalian on the Yiddish stage today
at the Playroom Theater, 151 W. 46th St.
(in the heart of the Broadway district)
January 28th – February 13th
10 performances only!
all seats $38
Watch this!
https://www.youtube.com/watch?v=7AsC5f4jWBs
Tickets are here!
https://www.brownpapertickets.com/event/3483188
————————————————
Sholem Aleichem was, according to pretty much everybody, the greatest Jewish writer ever.
His stories of life in Eastern Europe are the closest thing we have to an American Jewish "ROOTS".
Plus also, of course, he was funny.  Very funny.
And his Tevye stories were made into A Certain Broadway Musical.  But they had to be watered down to be made acceptable to 1964 audiences.  Most of the authenticity was gone.
TEVYE SERVED RAW brings it back.  This show presents the Tevye stories as Sholem Aleichem actually wrote them, including a lot that's not in the musical.  There are also some of his greatest comedy stories.
And it's all performed by actors who speak and understand the original language.
You'll laugh, you'll cry, you'll krechtz.
TEVYE SERVED RAW is presented in English and Yiddish-with-English Supertitles.
(Think 'comic strips, with words over people's heads'.)
————————————————
If you saw the show before and liked it, tell your friends
"You must go see TEVYE SERVED RAW!"
If you saw the show before and hated it, tell your enemies
"You must go see TEVYE SERVED RAW!"
more info at
www.TevyeServedRaw.com