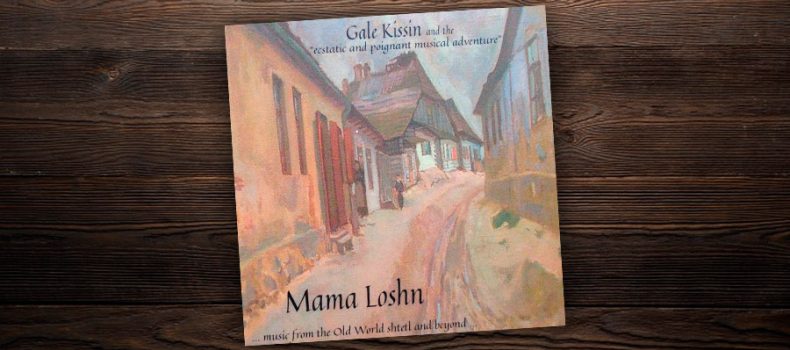 Gale Kissin sings "Mame Loshn"
Few recordings so well selected, so clearly interpreted, and so significative as this one:
Gale Kissin sings Mama Loshn
15 songs that illustrate Jewish life and struggles through the last 300 years!
I was afraid that America would not be able to rescue the real soul of Yiddish Music both because of self-imposed censorship, simple ignorance, poor pronunciation and bad memory but Gale came as a breath of fresh air to prove me wrong, and just in time when others seem so apathetic to our culture and national memory she comes out of the blue with this selection
From popular songs such as Chanuke's "Kleine Lichtalach" to "Venga Jaleo" straight out of the Spanish Civil war collection of Jewish fighters' music this CD brings home the best in Jewish music for those who appreciate our history.
Songs of tradition, songs of children, mothers, women rights, love, history, a collage of everything you need to listen to travel through history.
We seldom mix books with records but this week we have two books and this CD to mix because together they will bring self-pride, culture and history right into your living room.
If possible you should read "Who will write our History" by Samuel Kassow, but above all you should read Twenty Years with the Jewish Labor Bund: A Memoir of Interwar Poland, By Bernard Goldstein, where so many of these songs come alive in their pages ranging from Yiddishe Mame to Venga Jaleo each song, each word in the CD links perfectly to the stories of self-defense, tikun olam and hope that encompassed Jews in the XX century.
Gale Kissin sings Mama Loshn can be purchased in CD by sending an email to mamaloshnmusic@gmail.com or visiting the website mamaloshnmusic.org.
The cost is $15.00 with $5.00 being donated to the Jewish Community Free Clinic serving the uninsured and under insured folks in Sonoma County, CA. Payments by check and credit card are accepted.