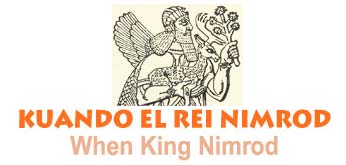 Kuando El Rei Nimrod is a Sephardic Folk Song of unknown author and composer.
Sephardic music is the product of the Jews who were expelled from Spain in 1492 and settled in what is now Turkey.
About half of those who fled made their way into various parts of Europe, but the Sephardic (Spanish) Jews of Turkey produced music mixing Spanish, Middle Eastern, and Hebrew elements, yielding a quite unique ethnic style.
That said, this song is believed to have roots in Spain, probably dating to the late fifteenth century. Its text, written in Djudeo-Espanyol — a Jewish dialect of Spanish — first appeared in the thirteenth century and tells of the grim circumstances of the birth of Abraham. There is a mixture of Jewish and Spanish styles here, too, but over the years Middle Eastern elements seemed to have crept in as well, as most modern renditions exhibit rhythms and other features associated with music of that ethnic style.