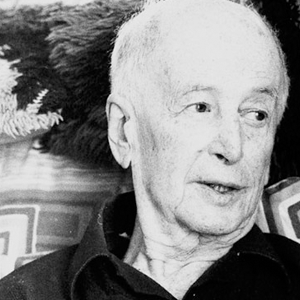 Birth Date
September 24, 1920
Birth Place
Biała Podlaska, Poland
Death Date
December 6, 195928, 2003
Death Place
Jerusalem, Israel
Yosl Birstein was such a terrific storyteller, both in Yiddish and in Hebrew, that he eventually became a legendary figure on the Israeli radio.
Yossel Birstein, writer: born Biala-Podolsk, Poland 24 September 1920; married 1941 Margaret Waisberg (two daughters); died Jerusalem 28 December 2003.
Even on his deathbed Yossel Birstein couldn't stop talking. No longer able to write, he called his granddaughter to his side (in biblical fashion), and began to dictate the story of his journey around the world, from the past to the future, from Poland to Australia.
The year was 1937, Yossel Birstein was 17. He would see no more of Biala-Podolsk, the shtetl in which he was born and raised, or his family. Thereafter they would exist only in his memory and his stories. His travelling companion, lifelong friend and exact contemporary was Yosl Bergner (soon to be a famous painter). It was hardly a ship of fools – the passengers had the good sense to be quitting Europe – but it was a ship of innocents.
At a stop-off in Tahiti, the Jewish tailors and boot-makers refused to eat the sanguinary meat. They sent a letter to the celebrated Yiddish poet Melech Ravitch (Yosl Bergner's father), demanding gefilte fish and other kosher delicacies. It was addressed, "From the Pacific to Australia". "You are wasting your time," observed Birstein, more practical than the others, "Melech Ravitch is a vegetarian." On one of the lesser islands Bergner was overcome by malaria, and Birstein (small, but strong) carried him back on board.
Together they passed through the Panama Canal; together they enlisted in the Australian army. Then, in 1950, with antipodean wives, they made their separate ways to the new state of Israel. Birstein was waiting for Bergner in Haifa. "Behold," he said, "the new Jew."
Yossel Birstein spent the next decade on Kibbutz Gvat working as a shepherd, an occupation that offered plenty of time to think. He had always fancied himself as a poet, but finally he opted for unbroken lines. In 1958 he published his first book, Oyf shmole trotwarn ("Narrow Paths"), at that time the only novel about kibbutz life written in Yiddish.
Although he was using the language of old Europe, he did not look back. He only did that, paradoxically, when he switched to Hebrew. Then he felt free to roam the three continents in which he had dwelt. This is particularly true of his last novel, Al Tikra li Job (1995, translated into English as Don't Call Me Job by his wife, Margaret), in which Polish, Australian, and Israeli lives all intersect. One of these multi-national characters, I'm proud to say, bears my name (though he has more of Bergner's character).
I met Birstein in Jerusalem. By then he was herding papers rather than sheep, being the cataloguer of Melech Ravitch's three-ton archive at the Hebrew University. He took me to see it; stack after stack, all filled with boxes, like a gigantic shoeshop. Each box a life. Birstein knew them all, and a hundred stories about each of them. He was a raconteur of genius. One by one they returned from the other side, those dreamers of a lost world. It was inevitable that Birstein would make use of such a goldmine. Panim Be'anan ("A Face in the Cloud") came out in 1991.
But it was as a storyteller and raconteur that Yossel Birstein found his greatest popularity. And not only in Israel (where he was awarded both the Manger Prize and the Prime Minister's Prize). In his old age he became a star in China, where the oral tradition remains strong. So long as he was able, he would wander the streets of Jerusalem and ride its buses, always looking for and finding stories. The stories were often tragic, but to tell them was always an act of optimism. Thank God he wrote so many of them down.
In the end he whispered to his daughter: "Words, words, words . . . and more words."