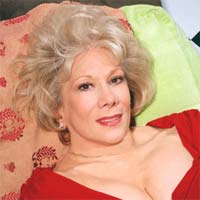 Birth Date
February 26, 1943
Birth Place
Manhattan, NY, United States
Genres
Folk, Musical Theater, Pop, Jazz, Classical
Winner of an Outer Critic Circle Award and a Drama League Award for her debut in Catskills On Broadway, Marilyn Michaels is America's premier woman of a thousand faces and voices. From the time she starred as Fannie Brice in the national company of Funny Girl, garnering rave reviews throughout the country, and through her debut on the Emmy winning television series, The Kopykats, Marilyn has become familiar to fans all over the world.
She is known to audiences by her countless appearances on such television shows as The Tonight Show, Regis and Kathie Lee, Lifestyles with Robin Leach, The Today Show, Sally Jesse Raphael and The Howard Stem Show. Ed Sullivan Show, Sullivan on Broadway,The Dean Martin Show, Dean Martin Roasts,Name of the Game with Sammy Davis, etc…
Marilyn has brought her gift for satire and her powerful singing style to such diverse venues as Las Vegas and Atlantic City, starring at Harrahs hotel in the dazzling revue, Broadway Ballyhoo. Known as a "tripple threat performer" she is one of the few performers in show business who can be seen hosting a standup show such as Girls Night Out for Lifetime or dealing with topical and pertinent social issues as host of CNBC'S Talk Live. Then in the blink of an eye, you will catch her doing a commercial for Diet 7Up or appearing in concert at Town Hall or The Sylvia and Danny Kaye Playhouse in what she views as her true root talent, that of a singer. Then there are those who know Marilyn's theatrical heritage and have heard her sing in five different languages, or caught her performing with her mother the famed female Cantoress, Fraydele Oysher. She guested on the PBS special Another Mitzvah, along with Alan King and Erica Jong, and hosted WLIW television's Awards in Excellence Gala.
Marilyn began her career singing with her mother, Fraydele, when she was seven. At the age of 15 she was soloist in her father's choir, the late Metropolitan Opera basso, Harold Sternberg. The cantor was her uncle, the legendary Moishe Oysher. It was through this musical heritage that Marilyn honed her ear for sounds, dialects and languages.. Her character portrayals have been seen on such national shows as Spelling/Goldberg's The Love Boat, and as a guest star on the soaper One Life To Live. Her rendition of Donna Summer and Barbra Streisand singing via split screen on an NBC Award show has become a cult favorite. She has appeared with the Philadelphia and Long Island symphonies, as well as displaying versatility as a narrator with multiple personalities in the Emmy winning Reading Rainbow for PBS (Gregory the Terrible Eater) as well as the narration for the audio book, Frankly Scarlett, I Do Give A Damn (Harper Collins)
A many facetted woman, Marilyn is an accomplished painter whose landscape paintings and celebrity artworks have shown in New York and Palm Beaches finest galleries. Her art poster, The Fabulous Blondes (E Channel, Celebrity Homes) depicts a mural consisting of filmdom's movie goddesses.
Marilyn's CD's include, Voices (30 characters and voices) An Oysher Heritage, (timeless Yiddish and Hebrew duets with her great Uncle, Cantor Moishe Oysher and Mother Fraydele Oysher) A Mother's Voice, (title song by Marvin Hamlisch and Alan and Marilyn Bergman) singing with her son MARK, and her most recent CD, Marilyn Michaels… Wonderful At Last. This current CD contains original songs written by Marilyn for the musical, ALYSS, based on Alice Through the Looking Glass, as well as the Great American Song book. The inner liner notes quote Broadway composer of Funny Girl and Gypsy, Jule Styne…"Marilyn, you're a thrilling talent."
All of the CD's are available for sale through this web site, personally autographed. To order click here.