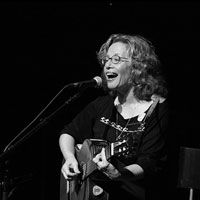 Artist Name
Khave Alberstein
Birth Date
December 8, 1946
Birth Place
Szczecin, Poland
Genres
Folk, Traditional, Yiddish Lid
Born in the small town of Szczecin, Poland, Chava Alberstein's artistic development mirrors and reflects Israel's development as a nation state. Alberstein was four years old when her family moved to Israel, and throughout her prolific career (more than 50 albums, many of which have become gold and platinum) Alberstein remained engaged with her people and nation, and is often considered the voice of Israel's conscious. Gifted with a voice both velvety and powerful, and an ability to inhabit and perform her songs in a manner that transcends linguistic boundaries, Alberstein is a folk-pop singer that delivers in her songs accounts that are almost journalistic and inhabited with haunting images. She addresses local issues that are universally meaningful—immigration, racism, environmental destruction and faith. And although Alberstein has always been greatly respected by the Israeli media, she has never been afraid to voice her opinions. Her remake of the Passover song "Chad Gadia", which she recorded during the intifada of the late 1980s, critiqued Israeli policy and oppression of Palestinians and was banned from the radio.
The immigration story of Chava's family is similar to that of many Jews who migrated to Israel in the 1950s, when the newly born country was little prepared to handle the multitude of refugees that were pouring in. In their first few weeks in Israel the family lived in a tent from which they moved to a transit camp of tin houses. They finally settled in Kiryat Bialik, north of Haifa. The physical conditions encountered in the transitional period by the family as well as the assimilative pressures and the arrogant attitude of native-born Israelis toward newcomers rendered the family close knit.
At 17, Alberstein was invited to perform in a Jaffa nightclub. She sang four songs, accompanying herself on her guitar, with her brother Alex supporting her on clarinet. The night's program at the nightclub was broadcast on the radio, following which Alberstein received an invitation to be a guest on one of the more popular programs of the time. Nachum Heiman, one of the stars of the period, invited her to sing with him. He also recommended her to CBS records, and CBS signed a recording contract with her.
The following year Alberstein was drafted to the army. She was already a known artist and she spent her time in service traveling to different military bases and singing for soldiers. Numerous albums followed. Most of her songs were recorded in Hebrew, but few were in Yiddish or Arabic, and she also recorded a lot of children's songs. Stylistically, especially early in her career, Alberstein drew on the native "songs of the land of Israel" genre, often adapting poems of prominent Israeli poets into songs. She was also inspired by American folk singers such as Joan Baez and Pete Seeger, and turned to performing her Yiddish repertoire while accompanying herself with the guitar. In the 1980s Alberstein began to write and compose her own songs, and her album Mehagrim (Immigrants) was the first to be made up mostly of her own material, with lyrics that are often filled with humor or sharp criticism.
Chava has released more than 40 albums in Hebrew, six of which have been awarded the Kinor David (Harp of David) prize, the Israeli equivalent to the Grammy. Her early records in Hebrew such as Shirei Eretz Ahavati (Songs of my Beloved Country), Chofim (Beaches) and Kmo Tzemach Bar (Like a Wildflower) speak to the naïve, idealistic, recently born Israel. But Alberstein has never forgotten the Yiddish that was her mother tongue nor her relationship to Yiddish culture, which was rejected by the Israeli mainstream as a symbol of the Diaspora. She recorded six albums in Yiddish, including The Well, an album of Yiddish poems set to her own melodies and modeled after Eastern European folk songs, which she recorded with the Klezmatics. If Yiddish was once a symbol of weakness, Chava turned it into a symbol of strength, with the power to bring those now gone back to life. She also recorded an English album covering standards. In Israel, many of her records went gold, a few went platinum and one went triple platinum.
Alberstein acted in two films by her husband, the director Nadav Levitan, and scripted Too Early to Be Quiet, Too Late to Sing, a 1999 documentary about a small group of Yiddish poets who survived World War II.
In 2005 Tel Aviv University honored Chava Alberstein by conferring upon her the Doctor Philosopie Honoris Causa of Tel Aviv University, in recognition of her illustrious career as an icon of Hebrew folk music, her distinctive vocal qualities and broad repertoire, her high standards and modest performance style, her revival of Yiddish music as part of the Israeli and Jewish cultural legacy and her contribution to the musical canon and to Israeli culture at large. —Nili Belkind
5 Songs Performed by Chava Alberstein
Albums by Chava Alberstein