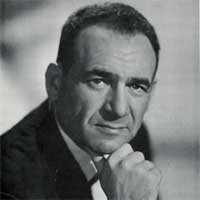 Death Date
October 3, 2004
Genres
Liturgical, Cantorial
Benjamin Siegel was brought to the United States from Poland by his parents as a very young child and grew up in New York City. Showing an early interest in musical performance, he joined a choir when he was only eight. It was at City College of New York that he was bitten by the "show biz" bug. Leaving CCNY to study voice at the American Theater Wing and then at the Sacred School of Music (under the auspices of the Hebrew Union College) he came under the influence of important Cantors of his day including Cantor David Kousevitsky, and Cantor Max Helfman.
By the time he was 20, Benjamin Siegel was a chazzan in Spring Valley, New York. Drafted into the Navy during WWII he was assigned to the Chaplain's Office where he led services, organized the choir for High Holiday and Festival services, and toured the country performing concerts to raise funds for Navy Relief.
While Cantor at the Y.M.H.A. of Washington Heights in New York Benjamin Siegel explored the world of cabaret, appeared in a number of shows, and performed operatic solos. He sang as Cantor at Temple Israel in Great Neck, New York from 1950 until his retirement 35 years later, returning for the next six years to officiate at High Holiday services.
Cantor Siegel composed a Friday Evening Children's Service (T'filot Shel Yeladim), a Friday Evening Chassidic Service, Ma Tovu, Thou Shalt Love the Lord, L'chu N'ran N'nah, O Come Let Us Sing, and many other liturgical compositions. He was honored for his educational and charitable contributions by the Zionist Organization of America, Yeshiva University, Israel Bonds, the United Jewish Appeal, and the Jewish Theological Seminary, amongst others.
He has had a distinguished career, performing in numerous concerts throughout the United States, Canada and Israel.
Cantor emeritus, Temple Israel of Great Neck, died on October 3, 2004, after a long illness. Beloved father of Rita Bloom, Phillip and David. Also survived by four grandchildren and two great-grandchildren.
33 Songs Performed by Benjamin Siegel
Albums by Benjamin Siegel