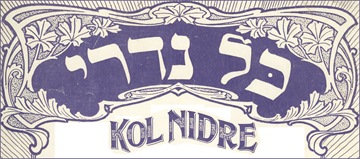 101 Strings Orchestra was a brand for a highly successful easy listening symphonic music organization, with a discography exceeding 150 albums and a creative lifetime of around 30 years beginning in 1957. 101 Strings had a trademark sound, focusing on melody with a laid-back ambiance most often featuring strings. Their LPs were individualized by the slogan "The Sound of Magnificence", a puffy cloud logo and sepia-toned photo of the orchestra.The 101 Strings orchestra included 124 string instruments, and was conducted by Wilhelm Stephan. The orchestra's famous official photograph was taken in the Musikhalle Hamburg.
Record label mogul David L. Miller came to prominence by releasing the first Bill Haley & His Comets' records in 1952–1953 on his own Essex label (followed by Trans-World, then Somerset Records). In this capacity, Miller played a role in the creation of rock and roll.
Following the rise of mood music (practitioners Mantovani and Jackie Gleason Presents), Miller subcontracted the Orchester des Nordwestdeutschen Rundfunks Hamburg (the Northwest German Radio Orchestra of Hamburg) conducted by Wilhelm Stephan to play in-house arrangements of popular standards. The first three 101 Strings albums were released in November 1957, and twelve more titles were released in 1958 (many of which featured recycled material from earlier albums attributed to the New World Orchestra, Rio Carnival Orchestra, and other light music orchestras). These records were pressed by Miller's own plants and released through his own distribution channels (such as grocery stores).
In 1964, Miller sold the franchise to Al Sherman, a successful record label distributor, who renamed the label Alshire (based in Los Angeles) and moved recording to London. Sherman retained Miller as a partner to oversee production and A&R. The Alshire era is characterized by large-scale expansion of product, attempts to branch out to younger markets and beginning in 1969, eventual stagnation (although late efforts by Les Baxter and Nelson Riddle were released under the 101 name in 1970). Output decreased from 1974 on. A tribute to John Lennon (composed of earlier Beatle tribute material – 101 Strings play Hits written by The Beatles) in January 1981 marked the final 101 Strings effort.
Many 101 Strings albums are simply orchestrated versions of pop hits and show tunes, although the early Somerset material contains many examples of the exotica and lounge genres. Songs of the Seasons in Japan, Hawaiian Paradise, and East of Suez are three such albums. 101 Strings Play the Blues and Back Beat Symphony were early experiments in symphonic-pop hybridization, while Fly Me To The Moon contains five noir-ish originals. Alshire releases include 'Now Sound' albums such as Jet Set, Sounds of Today, and Astro-Sounds from Beyond the Year 2000, the last of which has been frequently sampled by electronic music artists of the 1990s and 2000s (decade).
His core staff arrangers were Monty Kelly, Joseph Francis Kuhn, and Robert Lowden. All three proved adept at writing original compositions that were stylistically consistent both with contemporary hit songs and each other. Miller placed these on 101 Strings albums to provide additional publishing revenues.
Kelly's earliest successes were Latin and Spanish travelogues (such as the "Soul of Spain" series), although he became 101 Strings' "Now Sound" specialist following the British Invasion. Kuhn concentrated on radio-friendly numbers in the "Pops"'s orchestral manner ("Blues Pizzicato", etc.) which provided Somerset its initial catalog of originals. Lowden composed lounge ballads (such as "Blue Twilight"). Their body of early 1960s work was recycled via re-release throughout the next twenty years.
The Alshire catalog was sold to Madacy, Inc. in the 1990s and, under the direction of Greg Sims, a "New 101 Strings Orchestra" began releasing a series of CDs (including a two-volume Beatles set). 101 Strings compilations were reissued on CD during the "lounge revival" of the 1990s. Few 101 Strings LPs have been re-released in their original form.
If one goes to the Madacy site to view their 101 Strings collection, exactly the same description that was used on the Bel Canto's ST- 76 two track stereo release about the 101 Strings sound is reprinted. The 50 Hz hum heard on many of those tape recordings was due to the Ampex 350's filtering which was not well suited for European 50 Hz power. The "My Fair Lady" and "King and I" releases have what appears to be the sound of dirty mixing pots used on the fly during those sessions. There were a number of tape releases that sounded like tape copies of pristine Stereo Fidelity vinyl which actually, were not all that pristine. Stereo recordings were made with a triangular cutting stylus. This resulted at times in pinch distortion which early conical styli did not handle well. Inner grooves especially, due to the increased density of the recorded information due to the slower relative movement of the track under the stylus, were more susceptible to distortion with conical styli in use at the time this record was released. The later development of elliptical styli allowed more precise tracking of the track and greatly reduced inner-track distortion.
In the 10 years and 2 months of their existence, 101 Strings sold over 50,000,000 records worldwide.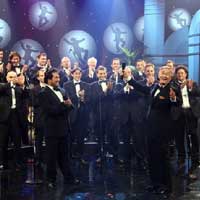 Hasidic Cappella Male Choir
The Hasidic Cappella Male Choir is a unique ensemble which performs Jewish liturgical and folk music on a classical and academic level. The Choir is remarkable for the amazing purity of its intonation and the availability of a large group of singers, each of whom is capable soloist in addition to being a member of the choir. Due to the fact that practically all the choir's members are graduates or students of the Moscow's top music school, the Choir has attained a professionalism that enables it to perform a wide range of not only Jewish liturgical and folk music but also classical choral works.
The Choir has performed Jewish liturgical music not only within the confines of synagogues for religious services, but in concert performed for the general public in the main concert halls of Russia and Europe. Jewish liturgical music continues to attract special attention, in part, this music, born in the beginning and middle of the 19th century in the countries of Eastern Europe and Western Russia, practically ceased to exist after the Russian Revolution in 1917, and only in the second half of the 20th century, has it been revived to any great extent. The music's originality, and unusual beauty and harmonies appeal to many. Today there are only a few Jewish choral ensembles in the world. The Choir enjoys a reputation for being able to learn and performing compositions of any complexity in a short period of time, for instance, the very difficult Spiritual Dialogues, written by the contemporary Israeli composer Joseph Dorfman, which the Choir performed brilliantly during its tour of Sweden, Denmark, Germany, France and Austria in December 1995.
The Choir is very mobile and compact, consisting of eighteen singers, two soloists, a conductor and the music director (a total of twenty-two persons). The normal cost of a single concert in Europe by the Choir is 4500 – 6500 €, depending on many factors, including the anticipated size of the audience, transportation costs, and whether the choir is accommodated with families in the local Jewish communities or in hotels.
Andrei Andrianov
1969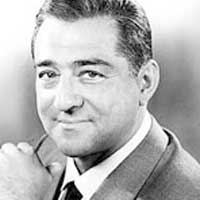 Born in Moscow in 1969. Since the age of six he has performed as a soloist in numerous children's musical choirs. During the years 1980—1983 he was a soloist of the Large Radio and TV Children's Choir. In 1999 he graduated from Moscow State Conservatory majoring in "solo singing".
The main sphere of activity of the singer is historical performance in general, especially dealing with the Baroque period. As an invited soloist Andrei Andrianov has frequently sung together with the leading authentic ensembles — "Madrigal", "Moscow Baroque", "Soloists of the Baroque", "Sankt-Joseph-Kapelle" and numerous others. Andrei Andrianov also specializes in Jewish cantata-oratorio (cantorial) music, — for over ten years he has participated in the Male Choir of the Moscow Choral Synagogue ("Zimra") and the "Hassidic Cappella" (formerly the Choir of the Cantorial Art Academy).
Since 2006 he has been a soloist at the Moscow "Amadeus" Theater. He is on the faculty at the Department of Historical and Contemporary Performing Arts of the Moscow State Tchaikovsky Conservatory.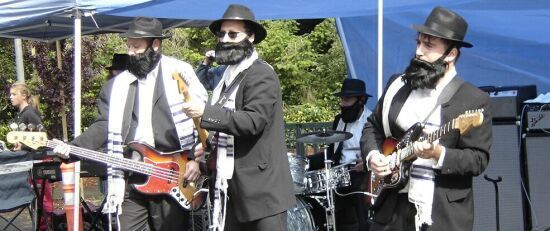 Meshugga Beach Party
Meshugga Beach Party brings together many favorite Jewish melodies with the fun, retro-cool sounds of surf music. The band puts on an exciting, high energy live show – dressed like rabbis, synchronized dance moves, the "dead joke scrolls" – it's surfin' shtick at its finest. The band features dual guitars, piano, organ, bass and drums, and the occasional holler for good measure.
Meshugga Beach Party has been playing around the Bay Area since 2003, appearing in places as varied as Jewish heritage festivals, local traditions like Bay to Breakers, and hipster havens like Lebowski Fest, Forbidden Island Tiki Lounge and the Hubba Hubba Burlesque Revue. Live performances of the band have also been a hit on the web, with their "Hava Nagila /Misirlou" clip garnering over half a million viewings on sites like YouTube and whatever it is the kids these days use to watch videos.
In 2010, the band were competitors in the Portland semi-finals of America's Got Talent, and in 2011, the group recorded an original song with Rock and Roll Hall of Fame guitarist Duane Eddy.  You never know where you'll be seeing these meshuggeners next!
Al Jolson
1886 – 1950
Born as Asa Yoelson on May 26th 1886 in Srednik, Kovno Governorate, Russian Empire [now Seredzius, Lithuania], Al Jolson was known in the industry as "The World's Greatest Entertainer," for well over 40 years. After his death his influence continued unabated with such performers as Sammy Davis Jr., Elvis Presley, Mick Jagger, David Bowie, Jackie Wilson and Jerry Lee Lewis all mentioning him as an inspiration. Jolson was born Asa Yoelson in Lithuania to Cantor Moishe Yoelson, who emigrated alone to Washington, DC, to establish himself. After four years he sent for his family. Nine months later his wife, Naomi, died (apparently during childbirth), which devastated the eight-year-old Asa. Young Al would soon find his outlet in the theater. Soon he was singing with his older brother, Harry, for senators and soldiers. He entertained the troops that were headed for the Spanish-American War.
Jolson's career in vaudeville started with his brother in New York, but never really got off the ground. Different partners allowed Jolson to experiment, but it was as a solo act in San Francisco that he finally hit it big. He was signed eventually by Lew Dockstaders' Minstrels. It is important to note that, although performing in blackface, Dockstader's was not a minstrel show in the traditional sense of the "Tambo and Bones" variety of the previous century. It was a sophisticated, topical, Broadway-style revue. The myth lingers to this day that Jolson was a minstrel. He most certainly was not.
Jolson's stay in vaudeville was relatively short, as his talent was quickly recognized by the Shubert Brothers, who signed him to appear in the opening show of their new Winter Garden Theater on Broadway in April of 1912. Thus began what many consider to be the greatest career in the history of Broadway. Not a headliner initially, Jolson soon became "King of the Winter Garden," with shows specifically written for him. "Winter Garden" and "Jolson" became synonymous for close to 20 years. During that time Jolson received reviews that have yet to be matched. Audiences shouted, pleaded and often would not allow the show to proceed, such was the power of his presence. At one performance in Boston, the usually staid and conservative Boston audience stopped the show for 45 minutes! He was said to have had an "electric' personality, along with the ability to make each member of the audience believe that he was singing only to them.
In 1927 Jolson starred in the New York-shot The Jazz Singer (1927) and the rest is film history. But just before it was theatrically released, producer, Warner' His appearance in that film, nowadays considered a somewhat creaky, stodgy and primitive museum piece, electrified audiences and caused a sensation. Jolson was bigger than ever and Hollywood came a-calling. However, Jolson on film was a pale version of Jolson on stage. His screen appearances, with some exceptions, are stiff and wooden. Though he continued into the 1930s to star on radio, he was no longer quite the star he had been.
During World War II, Jolson entertained troops in Africa and Sicily but was cut short by a bout of malaria and pneumonia. Always a favorite with audiences, he continued to entertain in the United States when he met his fourth wife, Erle Chenault Galbraith, an x-ray technician.
By the mid-'40s, though. his stardom had faded quite a bit. Columbia Pictures, inspired by the success of Yankee Doodle Dandy (1942), decided that a Jolson biography might work as well. In 1946 it released The Jolson Story (1946), with song-and-dance man Larry Parks miming to Jolson's vocals. It was the surprise smash hit of the season and the highest grossing film of the year. Parks received an Academy Award nomination for Best Actor. Jolson was now as big, or bigger, than ever. So successful was the film that Columbia made a sequel, Jolson Sings Again (1949), which remains one of a few biography sequels in film history (Funny Girl/Funny Lady – the story of fellow Winter Garden performer Fannie Brice is another rare example). It was also quite successful at the box office. So big had Jolson's star risen that in 1948, when Bing Crosby, Frank Sinatra and Perry Como were at their peaks, Jolson was voted "The Most Popular Male Vocalist" by a Variety poll.
In 1950, against his doctor's orders, Jolson went to Korea to entertain his favorite audience, American troops. While there his health declined and shortly after his return to the U.S. he suffered a massive heart attack and died on October 23, 1950 in San Francisco, California.
Jolson's legacy has suffered enormously since the 1960s. Few under the age of 50 even know his name, and those who do were taught that he was a "white man who made millions making fun of black people." This is, of course, specious. In fact, blackface had long lost its pejorative racial implications by the turn of the century and became a convention of theater. Many stars, including Eddie Cantor, Fred Astaire, Bing Crosby, Judy Garland, Doris Day, Betty Grable and many black stars of the time, used blackface. There was no bigotry attached to it. So the man who was the king of Broadway for nearly 40 years is now largely forgotten or misunderstood, and there is no plaque or statue or even sign anywhere on Broadway to honor him.
Deborah Katchko-Gray & Thodore Katchko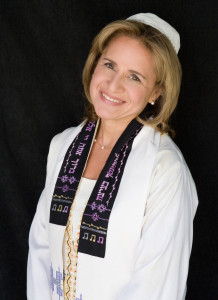 A fourth generation cantor and the second to serve a conservative synagogue, since 1999, Congregation Shir Shalom in Ridgefield has been her spiritual home. Her Music Shabbat programs with the Shir Shalom Adult Choir, Shir Shalom Talented Teens and guest artists are popular in the community. Deborah founded the Women Cantors' Network in l982, a national organization of 300 members. Her archives are housed in the National Museum of American Jewish History where two items are permanently displayed. The American Jewish Archives houses her complete archives.
Spirited and soulful programs and concerts of Jewish music are happily shared with congregations, Scholar in Residence programs and community events.
Her recordings and Katchko Songbook are used and enjoyed widely.
She teaches hazzanut via Skype for the European Academy of Jewish Liturgy. She has published, Jewish Huck Embroidery, using Swedish Weaving to create heirloom tallitot. Deborah's classes, "Stitch and Kvitch" have inspired dozens of people to make tallitot.
She is an International Vice President of Cantors for Women of the Wall, a member of the Clergy Task Force of Jewish Women International and active with MERCAZ, an Israel Advocacy group of United Synagogue. Deborah has served on the Executive Council of the Cantors Assembly. She is a member of the American Conference of Cantors, Cantors Assembly and past president of the Women Cantors' Network.
Cantor Debbie is a cellist with the Danbury Community Orchestra.
Deborah has four sons, and with her husband, Dr. F. Scott Gray raise 6 sons with one adorable grandson.
Benjamin Z. Maissner
1944 –
BENJAMIN Z. MAISSNER (1944 – ) is cantor and music director of Holy Blossom Temple in Toronto. With degrees from the Hebrew Union College of Sacred Music and Temple University, Cantor Maissner is renowned for his knowledge of both secular and liturgical music. He has mastered a variety of musical styles, including Jewish renaissance, early Hebrew art music, and contemporary Canadian, American and Israeli compositions. He is also conductor and music director of Lachan, Toronto's Jewish Chamber Choir.
A versatile performer himself, Cantor Maissner has been a featured soloist in such theaters as the Mann Auditorium in Jerusalem and New York's Carnegie Hall. He also has served as musical consultant for documentaries including To Mend the World and The Man Who Hid Anne Frank. He currently serves on the executive board of the Cantors' Assembly (Conservative) and as vice president of the American Conference of Cantors (Reform). He teaches vocal and cantorial skills and is national chair of the Certification Program of the American Conference of Cantors.
Cantor Maissner teaches and lectures extensively. He has been cantor-in-residence at Hebrew Union College in New York, Cincinnati and Jerusalem. In March 2001, he was recognized with an honorary doctorate in music from the Hebrew Union College – Jewish Institute of Religion.
Allan Michelson
1920 – 1991
Allan Michelson was a cantor of Temple Adat Ari El in North Hollywood who sang in several films.
Born in Liepaja, Latvia, Michelson followed his father in becoming a cantor and sang throughout Latvia, Germany, Sweden and Poland. He came to the United States shortly before the beginning of World War II and served in the U.S. Army for four years. After he was discharged, Michelson continued his musical studies in Indianapolis and Chicago and moved to California in 1952 where he accepted the cantorial post at Temple Adat Ari El, then called the Valley Jewish Community Center and Temple. As cantor, Michelson served in several capacities including educator and conductor. He retired in 1984.
His voice was heard in several films, including "The Silver Chalice" (1954), "Land of the Pharaohs" (1955) and "Judgment at Nuremberg" (1961). Michelson was also the featured soloist on the "The House of the Lord" recording with the Roger Wagner Chorale.
Moyshe Oysher
1907 – 1958
Moishe Oysher (1907, Lipkany, Bessarabia, Imperial Russia — 27 November 1958, New Rochelle, New York, USA).[1] He is considered one of the most entertaining chazanim (cantors) ever recorded. It is said that there were chazanim in his family going back six generations.
In 1921, he traveled to Canada with his family and joined a traveling Yiddish theatrical company. In 1932. he started his own company and traveled to South America. After returning from South America to the U.S., he took a job as a chazan for the High Holidays at the First American-Roumanian congregation, in Manhattan, New York, on the Lower East Side.
Some say that Oysher's voice was like the "roaring of the lion." He liked the jazz style, popular at that time, and he used similar rhythmic melodies in his prayers, respecting always the traditional Bessarabian "Doinas" and "Nussach" moods of the prayers.
He starred in three Yiddish films and also made many recordings.
The Cantor's Son (Dem Khazn's Zindl) 1937, USA, B&W, 90 min, Yiddish with English subtitles. ISBN 1-56082-079-9
Directed by Ilya Motyleff and Sidney Goldin. Other actors: Judith Abarbanel and Florence Weiss. Based on Moishe Oysher's life. A very poor young immigrant lands a job as a custodian, where he is "discovered" and becames famous immediately. However, his success seems meaningless as he yearns for home.

The Singing Blacksmith (Yankl der Shmid; the Yiddish title literally means "Yankel the Smith") 1938, USA, B&W, 95 min, Yiddish with English subtitles. ISBN 1-56082-085-3
Directed by Edga G. Ulmer. Also with Miriam Riselle and Florence Weiss. This is a classic story of a blacksmith that is a womanizer and almost an alcoholic. One day, he meets a beautiful lady called Tamare and his life changes.
Overture to Glory (Der Vilner Shtot Khazn; the Yiddish title literally means "The Vilna City Cantor") 1940, USA, B&W, 85 min, Yiddish with English subtitles. ISBN 1-56082-063-2
Directed by Max Nosseck. Starring Helen Beverly and Florence Weiss. Oysher is the "Vilner Balabesl", a cantor in Vilna, with a renowned voice. Two men come from the Warsaw Opera to hear him sing the "Kol Nidre" on Yom Kippur and are so impressed that they introduce him to European classical music and to reading sheet music; they convince him, against the wishes of much of his family (and especially his father-in-law) to become an opera singer in Warsaw.
He leaves his job as the Vilna cantor, and seems at first to be on the path to fame and fortune as an opera star in Warsaw, when the news arrives that his son has died. Grief-stricken, he stumbles over the aria he is supposed to sing, starting instead into a lullaby he used to sing to his son. In disgrace, he also loses his voice; he tries to return to his life in Vilna; finally, his voice comes briefly back to him on Yom Kippur. He sings the first few lines of the "Kol Nidre", then dies of a heart attack.
Jan Peerce
1904 – 1984
The Jewish American tenor, Jan Peerce whose birth name was Jacob Pincus Perelmuth, was born June 3, 1904 in New York, NY and grew up in the New York City streets, and attended De Witt Clinton High School and Columbia University. He took violin lessons, and gave public performances; sometimes he also sang and it was soon discovered he was an exceptional lyric tenor.
In 1932 he was hired as a tenor soloist with the Radio City Music Hall company. Thanks to its radio broadcasts and stage programs, Peerce soon had a nationwide following. This led to concert engagements, and then he made his operatic debut in May 1938 in Philadelphia as the Duke of Mantua in Rigoletto, followed by his first solo recital in New York in November 1939.
The legendary maestro Arturo Toscanini heard him and found him to be the tenor he had sought to sing operatic and choral works with the NBC Symphony Orchestra. The recordings made during, or following, the NBC broadcasts are among the outstanding musical legacies of our time. Toscanini was reportedly pleased with Peerce's professionalism, as well as his extraordinary musical talents; many have said that Peerce may have been Toscanini's "favorite tenor" during the Maestro's 17 years at NBC.
Peerce made his debut with the Metropolitan Opera on November 29, 1941, singing Alfredo in Verdi's La traviata. He sang also the parts of Cavaradossi in Tosca, Rodolfo in La bohème, and in Gounod's Faust. He was hailed by the critics as the "All-American successor to the 'greats' of opera's almost extinct 'Golden Age.'" In 1946 he sang and recorded Puccini's "Tosca" with soprano Grace Moore and baritone Lawrence Tibbett at the Met.
In 1943 he appeared in the OWI film, Hymn of the Nations, with Toscanini, the NBC Symphony Orchestra, and the Westminster Choir in a performance of Verdi's seldom-heard choral work. Filmed in NBC Studio 8-H, the performance has been issued on video-cassette and DVD.
During the 1950's Mr. Peerce performed regularly as a featured soloist before audiences of over 14,000 guests under the conductor Alfredo Antonini at the landmark Lewisohn Stadium in New York City. These Italian Night open air concerts featured the Philharmonic-Symphony Orchestra and the Lewisohn Stadium Orchestra along with such operatic luminaries as Richard Tucker, Robert Merrill, and Eileen Farrell.
In 1956 Peerce made a sensation in Moscow as a musical "cultural exchange" ambassador, being the first American to sing with the famed Bolshoi Opera. He remained on the roster of the Metropolitan until 1966, appearing again in 1966-1967. He also taught a master class. In 1971 he made his Broadway debut as Tevye in "Fiddler on the Roof." He continued to make occasional appearances until his retirement in 1982, remaining in fine voice. He was the brother-in-law of fellow Jewish-American tenor Richard Tucker. Peerce was also at home on the concert stage and in solo recital.
Peerce recorded almost exclusively for RCA Victor as a "Red Seal" artist. Among his first recordings was as a featured soloist in Nathaniel Shilkret's 1939 tribute album to Victor Herbert. That same year Peerce was the tenor soloist in Toscanini's broadcast concert of Beethoven's Ninth Symphony, but it would be years before the Maestro would approve one of his performances of that symphony for commercial release.
Peerce sang in Toscanini's 1944 broadcasts of Beethoven's Fidelio, followed by the complete performances of Verdi's La traviata, Puccini's La bohème, and Verdi's Un ballo in maschera (with Herva Nelli), all eventually released on LP and CD. (Peerce did not sing in Toscanini's broadcasts of Verdi's Otello, Aida, or Falstaff.) He also sang in the Madison Square Garden concert in 1944, which featured the final act of Rigoletto with Toscanini conducting the combined New York Philharmonic and NBC Symphony Orchestra; this performance was recorded and also released on LP and CD. In 1952, he participated in Toscanini's last performance of Beethoven's Ninth Symphony, which the Maestro finally allowed to be released commercially on the RCA Victor label. His best-selling recording, however, was of a popular song, The Bluebird of Happiness.
He made several stereophonic recordings in the 1950s and 1960s for RCA, then gradually curtailed his recording projects. Most of his major recordings have been released on CD.[13]
For Columbia Masterworks Records, Peerce sang the title role in a 1963 recording of selections from Sigmund Romberg's The Student Prince, opposite Roberta Peters, and also featuring Giorgio Tozzi. This has not yet been released on CD.
He died December 15, 1984 in New York City.
Benedict Silberman
1901 – 1971
Benedict Silberman, originally Boruch Hirsch-Benedigton Silberman (December 5, 1901 Helsinki, Finland – December 11, 1971 Hilversum, Netherlands), was a Dutch composer and conductor of Austrian Jewish descent.
Silberman was the son of an Austrian violinist working in Helsinki who settled in Amsterdam. Silberman studied piano with Jean-Baptiste de Pauw and composition with Sem Dresden at the Amsterdam Conservatory. He wrote a piano concerto (1924) at the end of his studies. A year later he composed a violin concerto. He left for Berlin where he played as a violinist and arranged light classical musical, preferentially Viennese operettas. In 1944 he composed his own operetta Het Rozeneiland (The Island of Roses). He had contact with Franz Lehár, Robert Stolz and Emmerich Kálmán and toured Europe with the dance orchestras of Paul Godwin, Marek Weber and Dajos Bela.
In 1936 he returned to the Netherlands and became pianist in the AVRO radio orchestra of Kovacs Lajos. In 1938 he became conductor of the VARA radio orchestra. In 1948 he was asked to create a radio orchestra specialized in light classical music; he led this Promenade Orkest from 1949 till 1967. In 1965, he won the Golden Harp for his contributions to Dutch music.
in 1965 Shlomo Carlebach published the album in the palace of the king, Silberman arranged and conducted the chorus and symphony orchestra.
Cantor Moses J Silverman
1914 – 1986
Cantor Moses J Silverman was born on 25 Sep 1914. He began his training at the age of 9 when his father, also a renowned cantor, sat him down in the kitchen of their Newark, N.J., home, spread music out on the sewing machine and tutored him for two hours every afternoon. His father had learned the art of chanting Jewish liturgical music in the same fashion from his father. Moses J. Silverman was the fifth generation in his family to serve as a cantor.
He was national president of the American Cantorate from 1963 to 1965 and also served as a dean of the organization.
In addition to his reputation in religious circles, Cantor Silverman`s vocal skills attracted a considerable following among secular musicians.
He trained Danny Thomas in the cantorial arts for the lead role in the movie "The Jazz Singer." Subsequently, Thomas repaid that favor by performing at the 25th anniversary of Cantor Silverman`s cantorate. On his 40th anniversary at Anshe Emet, Jan Peerce sang a tribute to Cantor Silverman. On other occasions, he shared a stage with Basil Rathbone and Eddie Cantor. Victor Borge and Harry Belafonte went to Anshe Emet to hear Cantor Silverman, as did Lionel Hampton, who was tutored by Cantor Silverman in Jewish music to prepare the jazz musician for his tour of Israel.
"A cantor is a messenger of prayer. He speaks to God on behalf of his congregation," Cantor Silverman said in describing his art. "I look out over the sanctuary and see the faces, and I see the empty places. Most of the people I know very well. I`ve been with them in moments of happiness and at times of grief. I`ve shared their joys and their sorrows."
Moses J Silverman died on My 11th 1986 at Northwestern Memorial Hospital, Chicago, Ill.
Gershon Sirota
1874-1943
Gershon-Yitskhok Sirota was one of the leading cantors of Europe during the "Golden Age of Hazzanut" (cantorial music), sometimes referred to as the "Jewish Caruso."
Sirota began his cantorial career in Odessa, then spent eight years in Vilna as cantor of the Shtatshul (State Synagogue) there. It was in Vilna that he began his collaboration with choirmaster Leo Lowe, which would continue throughout his career. He performed on numerous occasions throughout Europe, and in 1902 he sang at a reception in honor of Theodore Herzl, the founder of the Zionist Movement.
In 1907, Sirota assumed the position of cantor at the prestigious Tłomackie Street Synagogue in Warsaw. He continued his concert appearances around Europe, and even sang in Carnegie Hall in New York City to a sold out crowd. While cantor at the Tłomackie Synagogue, he also began recording his music. The first Jewish records, made in Vienna, Berlin, and St. Petersburg and spread across the whole Jewish world, were of the two famous cantors: Gershon Sirota and Zavel Kwartin. As the technology improved, he was constantly rerecording the songs, so that listeners can trace the improvement of his rich tenor voice over the years.
While Sirota eventually left the synagogue over disputes concerning his frequent performances, he continued to live in Warsaw. Nevertheless, he travelled frequently, and his concerts were attended by Jewish and Christian audiences alike—and according to some accounts, even by Caruso.
Caught in Warsaw during the Nazi invasion of Poland during World War II, he spent his final years living in the Warsaw Ghetto, and died in the Warsaw Ghetto Uprising in 1943.
Richard Tucker
1911-1975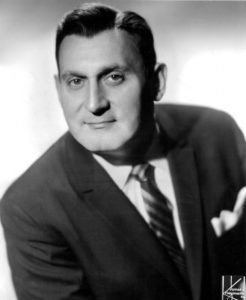 Tucker was born Rivn (Rubin) Ticker in Brooklyn, New York, the son of Bessarabian Jewish parents, who immigrated to the US in 1911. His father, Sruel (Sam) Ticker, and mother Fanya-Tsipa (Fanny) Ticker had already adopted the surname "Tucker" by the time their son entered first grade. His musical aptitude was discovered early, and was nurtured under the tutelage of Samuel Weisser at the Tifereth Israel synagogue in lower Manhattan. As a teenager, Tucker's interests alternated between athletics, at which he excelled during his high-school years, and singing for weddings and bar mitzvahs as a cantorial student. Eventually, he progressed from a part-time cantor at Temple Emanuel in Passaic, New Jersey, to full-time cantorships at Temple Adath Israel in the Bronx and, in June 1943, at the large and prestigious Brooklyn Jewish Center. Until then, Tucker's income derived mainly from his weekly commissions as a salesman for the Reliable Silk Company, in Manhattan's garment district.
On February 11, 1936, Tucker married Sara Perelmuth, the youngest child (and only daughter) of Levi and Anna Perelmuth, proprietors of the Grand Mansion, a kosher banquet hall in Manhattan's Lower East Side. At the time of Tucker's wedding to their daughter, the Perelmuths' musically gifted eldest son, Yakob, had progressed from a part-time jazz violinist and lyric tenor vocalist to a national radio star who had already set his sights on an operatic career. Under the management of Sol Hurok, the eldest of the Perelmuth offspring, now renamed Jan Peerce, reached his goal when the general manager of the Metropolitan Opera Company, Edward Johnson, offered him a contract after an impressive audition. When Peerce made his much-acclaimed debut at the Met on November 29, 1941, his sister and her new husband were living with Peerce's parents while Tucker was trying to make a success as the sole proprietor (and only employee) of a silk-lining sales business while also officiating at Temple Adath Israel in the Bronx.
Operatic career
Although Peerce remained skeptical of Tucker's ability and did not overtly encourage his operatic ambitions (which led, unfortunately, to a permanent rift between the two brothers-in-law and their families), Peerce did play a role in introducing Tucker to conductor and arranger Zavel Zilberts, who coached Tucker until he came to the attention of Paul Althouse, a notable tenor whose operatic career had begun during the last years of Enrico Caruso's long reign at the Met. Althouse became Tucker's only teacher. In a rare moment of the pupil disregarding the teacher's advice, Tucker entered the Metropolitan Opera "Auditions of the Air" in 1941, but did not win. When Met general manager Edward Johnson came unannounced to the Brooklyn Jewish Center to hear Tucker sing, however, Johnson offered the tenor another audition and soon awarded him a contract. On January 25, 1945, under the baton of Emil Cooper, Tucker made his debut as Enzo in La Gioconda. The debut, one of the most successful in the annals of the Met, heralded Tucker's 30-year career as the leading American tenor of the postwar era.
Two years after his Metropolitan debut, Tucker was invited to reprise his success in La Gioconda at the cavernous amphitheater in Verona, Italy, for which the retired tenor and Verona native, Giovanni Zenatello, had also engaged the young Maria Callas. Two years later, in 1949, Tucker's rapidly ascending career was confirmed when Arturo Toscanini, engaged Tucker to sing the role of Radames for the NBC broadcasts of a complete performance of Aida opposite Herva Nelli in the title role, an event heard and seen on radio and television, and eventually released on LP, CD, VHS, and DVD. This was the first full opera performance ever broadcast on national television.
In the ensuing years, Tucker's ample lyric voice evolved into a lirico-spinto voice of near-dramatic proportions. If his signature stylistic devices, especially his affection for Italianate sobs, were not always lauded by the critics, the distinctive timbre of his ringing voice, his unfailingly secure technique, impeccable diction, and native-sounding pronunciation were universally acclaimed in every role he undertook. A profusion of legendary tenors — including Jussi Björling, Giuseppe Di Stefano, Mario del Monaco and, eventually, Jan Peerce) came and went during the years in which (Sir) Rudolf Bing led the Metropolitan. Tucker remained a dominant tenor and steadily took on new challenges. Although an indifferent actor throughout most of his career, Tucker made a strong dramatic impression with veteran critics when he reconceived the role of Canio in Pagliacci under the direction of Franco Zeffirelli in January 1970. The tenor was nearly 60 years old at the time.
Before and after each Metropolitan Opera season, Tucker appeared on concert stages through the U.S. In the late 1950s and early 1960s, his appearances in a series of "Puccini Night" open-air concerts at the landmark Lewisohn Stadium in New York City, under the direction of Alfredo Antonini, often attracted audiences of over 13,000 enthusiastic guests.
Throughout his opera career, Tucker maintained a Jewish identity. He kept kosher, and regularly officiated as a cantor on Rosh Hashana, Yom Kippur and other sacred events in the Jewish liturgical calendar, especially in Chicago.He oversaw the religious development of his three sons, Berel (Barry, b. 1938); David N. Tucker, M.D. (b. 1941); and Henry (b. 1946). Their father arranged for them to sing with him on a popular television program hosted by Sam Levenson, 9 March 1952.
Tucker had a long-running contract with Columbia Records, and eventually recorded for RCA Victor as well. But, measured against the sheer length of his career, Tucker's commercial recordings are proportionately sparse and inadequately convey the power and roundness of his voice, according to most of his artistic colleagues. However, his recordings with soprano Leontyne Price (especially Madama Butterfly and La Forza del Destino) invariably show him in fine ringing voice and with a convincing dramatic presence. He also made a famous recording of Aida with a colleague from his Verona debut, Maria Callas. He recorded the Verdi Requiem with fellow Jewish opera super-star George London. Many other commercial recordings, as well as private recordings of his concerts and broadcast performances, have been digitally remastered and are available in CD and online downloadable formats. A number of his national television appearances on "'The Voice of Firestone'" and "'The Bell Telephone Hour'" were preserved in kinescope and videotape form, and have been reissued in VHS and DVD format. Regrettably, a complete video performance of the tenor's searing portrayal of Canio in the Zeffirelli production of Pagliacci, which was to be paired with Cavalleria rusticana featuring Tucker's friend and tenor colleague Franco Corelli as Turiddu, was never telecast and has not been issued commercially, for legal reasons.
Although Tucker's well-crafted public image was that of a competitive, overwhelmingly self-confident performer, his offstage demeanor was that of an inherently private but unfailingly considerate man, especially where fans and colleagues were concerned. Never prone to looking back upon his career, Tucker always lived in the moment and maintained a boyish outlook on life. He also displayed a propensity for playing pranks on some of his fellow singers, often provoking a smile at some inappropriate moment in a performance. Once, during a broadcast of La forza del destino with baritone Robert Merrill, Tucker sneaked a nude photograph into a small trunk that Merrill opened onstage. In later years, Merrill described his tenor friend as "an original, right out of the pages of a Damon Runyon story."
Death
Tucker was touring with Merrill in a national series of joint concerts when, on January 8, 1975, he died of a heart attack while resting before an evening performance in Kalamazoo, Michigan. He is the only person whose funeral has been held on the stage of the Metropolitan Opera. In tribute to his legacy at the Met, the city of New York designated the park adjacent to Lincoln Center as Richard Tucker Square.
Legacy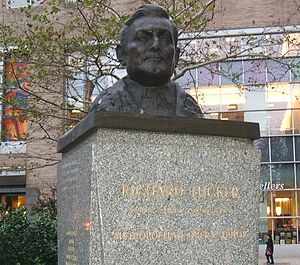 Richard Tucker monument in Lincoln Square
Shortly after his death, the Richard Tucker Music Foundation was established by his widow, sons, colleagues, and friends, "to perpetuate the memory of America's greatest tenor through projects in aid of gifted young singers." In the intervening decades, the Richard Tucker Foundation, whose annual televised concerts have been hosted by Luciano Pavarotti and other opera stars of the past and present, has consistently awarded the largest vocal-music grants and scholarships. Recipients include sopranos Renée Fleming, Deborah Voigt, tenors Richard Leech, Stephen Costello, James Valenti and other opera singers of international renown.
A street corner near Lincoln Center is named for him.