71 Osborne Road Brighton, East Sussex

,

United Kingdom
Polina Shepherd (Skovoroda) was born in Siberia and grew up in a home where songs were regularly sung at a family table. Now an internationally renowned performer, she brings the songs of the Steppes and the Shtetl up to date with passion and haunting soul. Her singing, though based on traditional forms, cuts a unique sound deeply rooted in east European Jewish and Russian folk song. Growing up in Tatarstan also placed her close to Islamic ornamentation and timbre which can be heard in her unique vocal style and four octave range.
Whilst living in Kazan (capital of Tatarstan) and studying at the State Academy, Polina joined Russia′s first klezmer band after Perestroika, Simcha (1990-2000). She soon became the principal Yiddish choir leader of the former Soviet Union, composing original material for large groups of voices and touring internationally with her Quartet Ashkenazim (1991-2007). As a Russian and Yiddish singer worked and recorded with a remix artist Max Pashm in Never Mind the Balkans, a Romanian Gypsy style brass band Fanfara and many others.
One of Polina's current collaborative projects is Sklamberg & The Shepherds which brings the world of traditional and newly composed Yiddish and Russian song blended with Klezmer and southern Mediterranean Music. Their CD Aheym was released in September 2015.
As s solo performer she presents a variety of original songs including her latest solo album Three Centuries Ago in Russian and Yiddish, all the songs in Russian composed to her own poetry.
Polina's duo collaborations:
As a pianist she works with the Sound & Light Cinematic Duo (UK), who play live accompaniment to rare black and white films.
Her latest duo projects are THE STRANNIKI with a "wandering scholar" Psoy Korolenko(Russia/US), (2016) and an all-new Russian-Yiddish song programme with a Grammy-winning New-Yorker Lorin Sklamberg, The Izba, the Shtibl and the Global Village.
Merlin and Polina Shepherd  Duo travel the world and have a reputation of 'the magical sound' on the Ashkenazi music scene.  They have also been called The Led Zeppelin of Klezmer (Seth Rogovoyreview here) Their CD A Blade of Grass was published in 2012.
Her choir work is united by the umbrella of The Polina Shepherd Vocal Experience and covers many aspects of vocal music from solo voice to large scale choral improvisation or highly arranged and conducted choir pieces and smaller chamber groups. Choir leader of the Award Winning Russian choir of Brighton & Hove since 2007, The London Yiddish choir and The London Russian Choir since 2013 and Brighton & Hove Chutzpah choir since 2015.
Polina works as an educator leading choral workshops internationally. Her specially developed choral teaching methods are based on specific East European sound, ornamentation, modal experimentation with attention to stylistic details, history and context. For Jewish music based choral workshops, she teaches nigunim, the age old songs without words, and Yiddish songs.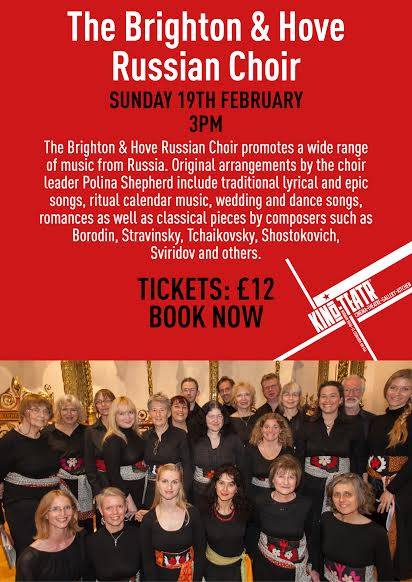 Polina's Russian choral repertoire covers Russian classics and folklore from ritual calendar songs for pagan holidays, exorcism and sibylline song, wedding songs, weeping songs to Tchaikovsky and Stravinsky, all with correct attention to history and style.
Programme director for International Klezmer Music Festival and Seminar in Moscow in 2005 and 2006, the International Festival of Jewish Culture and the Competition of Jewish musicians in Kazan, Russia in 2002 and 2003. Jewish song and choir tutor at International Jewish events: Yidstock at The Yiddoish Book Center, Amherst, MA, USA (2015-16), KlezKanada (2014),  Furth, Germany (2007), Klezfest London (2004-11), Klezmer Paris (2005, 2008), Moscow (2005-06), Kharkov Klezmer Teg (2003, 2019, 2013), Klezfest Kiev (2000-2005), Lviv, Ukraine (2013-2014), Jewish Festival in Kazan (2001-03, 2013), Sheshory'2007-Podilsky, Ukraine, Kleztival Brazil (2010-2014) and many others. Lecturer on Jewish music at the Centre of History and Culture of Jewish People, Kazan State University, 2002-03. In 2008-09, Polina worked for Glyndebourne Education in 2008-2009.
Yiddish Music adviser for a theatre show production Paul, strange Kind of a Hero in Brighton UK by Goodcompanymedia, April 2007. Music Director and composer at Coventry Belgrade Theatre for the production of Marriage by N. Gogol, 2013. About 100 compositions including music for theatre shows, large scale choir compositions, settings for Yiddish poems, piano work, and niggunim performed by soloists and choirs all over the world.