Oct
15
Tue
Additional Yiddish Classes at Different Levels Available
We are (literally) taking our Yiddish classes to the next level!
Are you interested in learning how to write/speak/read in Yiddish? The Yiddish Arts and Academics Association of North America (YAAANA) is welcoming our new Yiddish lecturer, Dr. Tanya Yakovleva!
Dr. Tanya Yakovleva, originally from Ukraine, lived and studied in Germany, Italy, and the United States. She recently completed her Ph.D. dissertation at the University of Regensburg, and is an affiliate scholar at UC San Diego. The main topic of her academic work is Odessa in Russian-Jewish literature. Since starting to learn Yiddish in Regensburg (one of the possible birthplaces of this language!), Tanya fell in love with it and decided to bring her passion to both academic and non-academic spheres.
Tanya is interested in teaching Yiddish language/culture classes at all levels. Please send your class requests to us at [email protected].
Times and locations will be arranged based on our students' needs.
We are looking forward to hearing from you.
Dec
1
Sun
Fitting Fanfare: Celebrating Yiddish Author

@ Santa Monica Synagogue
Dec 1 @ 4:00 pm – 5:00 pm
Fitting Fanfare: Celebrating Yiddish Author
Jacob Dinezon יעקבֿ דינעזאָן
On His 100th Yortsayt
צו זײַן 100טן יאָרצײַט
Thanks to one man's quest to restore a once-beloved and wildly popular Yiddish writer to his rightful place in the pantheon of Jewish literature, the world is once again celebrating the life and works of Jacob Dinezon.
Dinezon championed ordinary heroes easily overlooked and he did not shy away from revealing the dark underbelly of Jewish society in 19th and early 20th century Poland.
Come hear the story of this Los Angeles mitlshulnik's (Yiddish middle school student's) personal journey —a 16-year obsession that in August 2019 culminated in a moving ceremony in Warsaw's Jewish cemetery , Dinezon's resting place alongside two other giants of Yiddish literature, I.L. Peretz and S. An-Sky. Little had been done to honor this great humanist and writer in, literally, 100 years. This raises two baffling questions: Why?
And why now?
Don't Miss This Unique Event!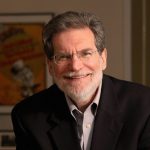 Scott Hilton Davis is an Emmy Award-winning filmmaker, author, and publisher. Together with his sister, Robin Evans, he founded Jewish Storyteller Press primarily to ensure that Dinezon's most famous works were brought anew to the world through English translations. Among the Dinezon titles published to critical acclaim are the novels: Hershele: A Jewish Love Story; and The Dark Young Man. Scott resides in North Carolina.